Russian camera can see human soul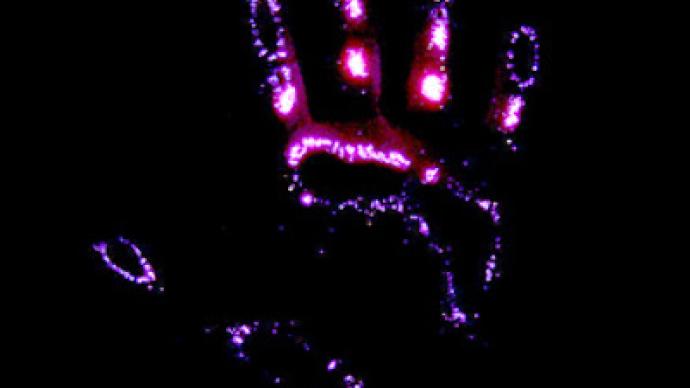 A wonder device can see the soul of a dead man pass away… or at least that's what the inventor claims.
A publication of the popular Russian tabloid Life.ru gives a dramatic account of the experiments of an inventor from St Petersburg, who has created a device able to see human aura.
Accompanied by pictures suspiciously reminiscent of a series of thermal images of a woman at different temperatures, the report claims they are made with a special "gas discharge camera" built by Konstantin Korotkov, a professor at the Research Institute of Physical Culture and State University of Information Technologies, Mechanics and Optics.
The paper goes on to say that the device can register the circumstances of death, differentiating between a victim of a violent crime and a person who died quietly in bed. It also registers the changes in aura presumably made by a strong psychic working on somebody.
Disregarding the glib comparison of the religious term "soul" with the new age "aura", the claims – they can hardly even be expected to get support in peer-reviewed scientific papers in our opinion – prompted RT to take a little investigation into the wonder device.
Kirlian camera
The instrument, which was presented to us as something involved in the study of death, turned out to have been designed as a medical diagnosis tool. With about 15 years of development behind it, its inventor claims that it's an affordable early-diagnosis tool, capable of identifying any disease, from an ulcer to a brain tumor, by scanning irregularities in an aura. Sort of a spiritual healer in metal and plastic, available to everyone for a small fee. No mystical stuff here – a patient can see his own aura on the computer screen, all thanks to the "gas discharge visualization" or GDV.
The spiffy name is actually modern application of a well-known phenomenon called Kirlian effect, named after Semyon and Valentina Kirlians, a Russian couple who greatly contributed to popularizing it back in 1960s. Kirlian experimented with photographing objects with high voltage applied to them.
The strong electric field causes faint corona discharges around the edges, which can even be seen with the naked eye. The visual appeal of the effect won the hearts of mystic-oriented people.
Starting with Kirlians themselves, many people claimed that the electrical phenomena was actually a way to visualize otherwise invisible auras of objects. Korotkov is one of these claimants. According to him, corona discharges around fingertips, which his GDV cameras cause, have information about one's physical condition and this information can be used for diagnosis. The claim was never confirmed by clinical tests, but it didn't prevent the device from becoming the cornerstone of a widespread business. With different models costing from $4,500 to $13,000, and official dealers all across Russia and abroad, the invention seems to generate enough cash for Korotkov to travel the world and promote his product.
Not for diagnosis
Meanwhile, critics openly call the GDV "quackery". Back in 2002, when the device drew the attention of the Russian media, RTR TV channel (now called Rossiya) did an investigation of their own, producing a 20-minute-long report. They revealed that, in the testing of a GDV scanner done in the Military Medical Academy, one of the strong-points trumpeted by the producer was actually its ability to kill bacteria on hands, which it successfully did. It was never used for diagnosis of any kind.
Another selling point – the testing of the device on Russian sportsmen – showed that readings of the device may vary slightly with the state of mind of the subjects. As it does with variations in the environment, like a change of air temperature or humidity.
In an interview given to a newspaper two years ago Korotkov said his invention was like a knife: it could be used for good or for bad purposes. Indeed, the beautiful Kirlian effect can be used for dubious intentions, or for inspiring works of art like those of photographer Robert Buelteman here.
As far as public science goes, there is no other application for it.
You can share this story on social media: