'Unbowed' Snowden makes Moscow statement, releases list of countries contacted for asylum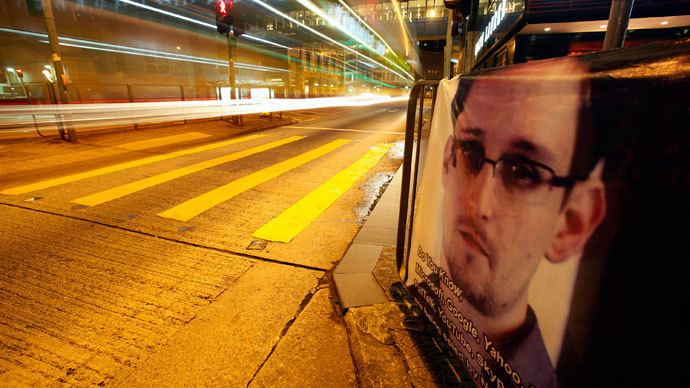 NSA whistleblower Edward Snowden released a statement Monday night from Moscow saying he is "impressed at the efforts taken by so many" to help him, with WikiLeaks hours later releasing a list of countries to be sent applications for asylum.
Sarah Harrison, WikiLeaks' legal advisor to Edward Snowden, has made requests for asylum from a long list of nations, according to a news release posted to that organization's website early Tuesday morning.
STATEMENT: Edward Snowden submits asylum applications http://t.co/07VOUsi9iA#snowden#prism#nsa#wikileaks

— WikiLeaks (@wikileaks) July 2, 2013
Requests were made following the initial bids submitted to Ecuador and Iceland, with the list now including countries throughout Europe, Latin and Central America, and several others. The complete list is below:
"The requests were made to a number of countries including the Republic of Austria, the Plurinational State of Bolivia, the Federative Republic of Brazil, the People's Republic of China, the Republic of Cuba, the Republic of Finland, the French Republic, the Federal Republic of Germany, the Republic of India, the Italian Republic, the Republic of Ireland, the Kingdom of the Netherlands, the Republic of Nicaragua, the Kingdom of Norway, the Republic of Poland, the Russian Federation, the Kingdom of Spain, the Swiss Confederation and the Bolivarian Republic of Venezuela," the statement reads. 
The Norwegian Foreign Minister, Frode Anderson, confirmed on Tuesday that an application for asylum had been received at the Norwegian embassy in Moscow. However, he noted that although the document is allegedly signed by Snowden, there was no way of verifying the signature's validity. Anderson declined to give any further information regarding the subject matter of the application. 
Meanwhile, Venezuelan President, Nicolas Maduro, said that Venezuela had not yet received an application for political asylum from the US fugitive.
"Snowden is a man who told the truth and demands protection under international human rights law," said Maduro to press during a trip to Moscow.

Poland has also confirmed that it received an asylum application. Moreover, Spain and Austria have both said that they cannot consider an asylum bid unless Snowden is located in the respective country. 
Snowden's request for asylum was handed over to the Austrian embassy in Moscow on Monday, but it can only be submitted in Austria directly, APA news agency cites the country's Interior Minister Johanna Mikl-Leitner, as saying. When asked by journalists if Snowden could be extradited once in Austria, the Minister answered that no international arrest warrant had been issued for the whistleblower.
Finnish asylum also cannot be requested from abroad, according to Keijo Norvanto, Head of the Unit for Communications at Finland's Foreign Ministry.
"We can confirm that we received the request. But we cannot consider it official. To officially seek political asylum, Snowden must first come to Finland and go to the police or migration service. But in this case the request procedure was violated, so the appeal is not going to be considered," ITAR-TASS news agency cites Norvanto as saying.

Spanish Foreign Minister Jose Manuel Garcia-Margallo knows nothing of an asylum request from Edward Snowden, but has reiterated statements made by other states that an asylum application is only valid when made on Spanish soil.  
"For an asylum petition to become a petition that the government could study, in other words for it to be legally admissible, it has to be made by a person who is in Spain," Reuters cites Garcia-Margallo as saying.

The former National Security Agency contractor who leaked documents detailing widespread domestic and foreign surveillance said he is disturbed by what he sees as the Obama administration's use of international intimidation tactics. 
"On Thursday, President Obama declared before the world that he would not permit any diplomatic 'wheeling and dealing' over my case," Snowden wrote. "Yet now it is being reported that after promising not to do so, the President ordered his Vice President to pressure the leaders of nations from which I have requested protection to deny my asylum petitions."
"This kind of deception from a world leader is not justice, and neither is the extralegal penalty of exile. These are the old, bad tools of political aggression. Their purpose is to frighten, not me, but those who would come after me."

Snowden highlighted how Washington's effort to bring him home for prosecution seemed to reflect a new ideology that portrays citizenship as a kind of extrajudicial blunt weapon.

"For decades the United States of America [has] been one of the strongest defenders of the human right to seek asylum," Snowden wrote. "Sadly, this right laid out and voted for by the US in Article 14 of the Universal Declaration of Human Rights, is now being rejected by the current government of my country. The Obama administration has now adopted the strategy of using citizenship as a weapon. Although I am convicted of nothing, it has unilaterally revoked my passport, leaving me in a stateless person. Without any judicial order, the administration now seeks to stop me [from] exercising a basic right. A right that belongs to everybody. The right to seek asylum."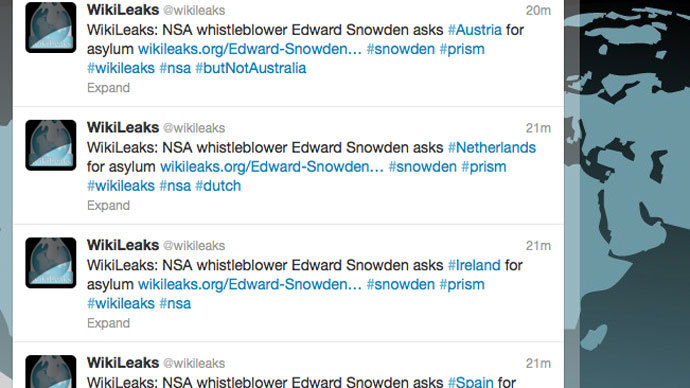 The statement is referring to a Friday phone call between US Vice President Joe Biden and Rafael Correa, the president of Ecuador, in which Biden asked Correa to reject Snowden's request for political asylum. Correa said in a speech Saturday that Snowden "will have to assume his own responsibilities" for his actions, but called the case an example of US "double standards" after an American court rejected an Ecuadorian extradition request in 2012.

The statement, posted to the WikiLeaks website, is the second time the whistleblower has communicated to the public since arriving in Moscow from Hong Kong on Sunday, June 23. The first time came the same day in the form of a letter thanking Ecuadorian lawmakers for considering his request for political asylum and for helping him travel to Russia.
"No matter how many more days my life contains, I remain dedicated to the fight for justice in this unequal world. If any of those days ahead realize a contribution to the common good, the world will have the principles of Ecuador to thank," part of that text read, according to a translation quoted by Reuters.
The fugitive whistleblower went on to thank his supporters and encourage the public to form its own opinion on his case and on the trial of Bradley Manning, the US soldier who faces life in prison for leaking US military information to WikiLeaks in 2010.

"In the end the Obama administration is not afraid of whistleblowers like me, Bradley Manning or Thomas Drake. We are stateless, imprisoned, or powerless. No, the Obama administration is afraid of you. It is afraid of an informed, angry public demanding the constitutional government it was promised – and it should be," the statement reads.

You can share this story on social media: