Snowden leak shows French telecom giant colluding with spooks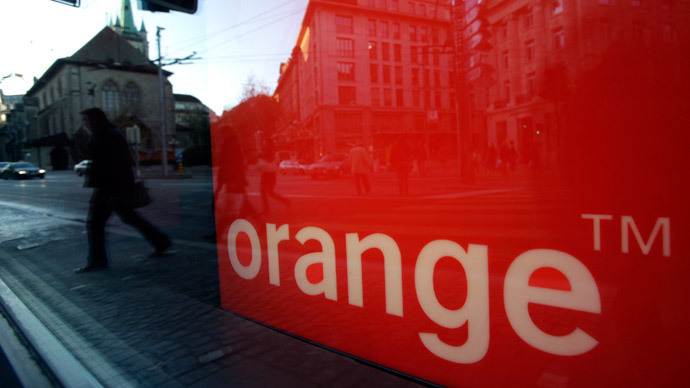 French telecommunications operator Orange S.A. has been cooperating "closely" with French security services in intelligence gathering operations, according to the most recent Snowden leak, Le Monde reports.
According to an internal document of the British Government Communications Headquarters (GCHQ) intelligence agency, France's General Directorate for External Security (DGSE) has been closely coopering with "a French telecommunications operator," which the French daily concludes is Orange S.A., formerly France Telecom S.A.

The GCHQ document reveals the DGSE has been working closely with the telecom giant to help intercept pertinent information and break the encryption of data flowing through the network. Le Monde refers to Orange S.A. – in which the government maintains a 27 percent controlling stake –as a major player in France's surveillance system.

The document, which was obtained by NSA whistleblower Edward Snowden, alleges that the DGSE has a major advantage over its Western intelligence partners, due to the nature of the cooperation between it and Orange S.A.

Not only does the intelligence agency have legal access to customer data from the telecom provider's database, but it shares information with foreign partners like the GCHQ. The French operator also appears to be conducting cryptographic research in concert with French intelligence.

"The relationship between French Telecom and the DGSE is not the same as that found in the NSA's PRISM program, which has contractual relationships with Internet giants," a former French intelligence chief told the daily.

There is no formalization of this cooperation between the DGSE and French Telecom – Orange. "It is within the purview of those authorized to handle defense secrets within the company, and has been perpetuated for at least thirty years by engineers who commute between the two institutions."

Ironically, Orange threatened in late December to sue the NSA for hacking into the underwater cable that it jointly owns with 15 other companies.

"We will take legal action in the next few days because we want to know more about the eventuality that Orange data may have been intercepted," an Orange spokeswoman said at the time. She added that Orange had had no role whatsoever in the spying.

Orange reiterated that the privacy of correspondence and negotiations can be broken only by special court order, and that the conditions and reasons for such action should be clearly defined in French law.

"Piracy to intercept data is not possible directly through the system of Orange, and such intrusion has not been previously reported," the company said in a statement.

However, according to Le Monde, Orange S.A. has given the DGSE access to those very underwater cables. Access is also given to the telecom giant's mobile subsidiaries abroad, which have been employed in recent French military interventions in Mali and the Central African Republic.
You can share this story on social media: