Govt shelling kills 20 in northern Syria, including 8 children – activists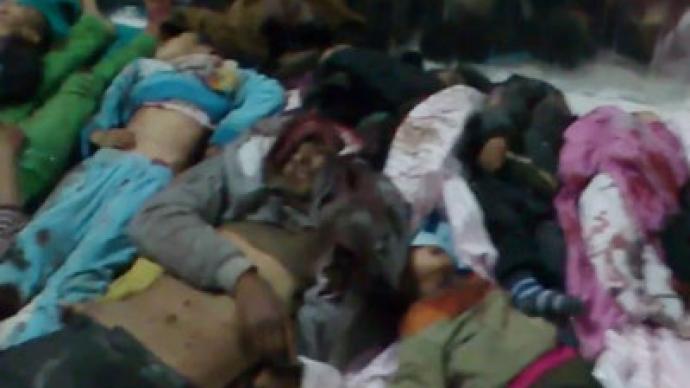 A video has appeared online, allegedly showing the aftermath of a shelling in Raqqa, a northern Syrian province. Activists claim that the graphic footage shows the bodies of the 20 victims of the attack, including eight children.
Media report that the amateur video was provided by the UK-based Syrian Observatory of Human rights. The footage shows rows of the blood-stained bodies laid out on blankets, with the sounds of crying in the background.The description to the video posted on YouTube of Rassd News Network (RNN), an alternative Cairo-based media, says the bodies belong to the "martyrs" killed in village of al-Qahtania, in northern Raqqa Province.The activists claimed that the deaths resulted from the shelling of the local farms by regime forces, adding that among the 20 killed there were eight children and three women.The video could not be independently verified and it remains unclear when the violence took place. It has appeared shortly after the activists' reports that a strike by Syrian forces claimed lives of over 180 people in the town of Halfaya. An amateur video released on YouTube on December 23 showed scores of dead or wounded people in the rubble and men carrying victims out of a bombed one-story block. The state TV blamed the attack on the rebels, accusing them of filming the aftermath to "frame the army."Those responsible have not yet been identified.Opposition activists tend to blame government forces for what they call deadly violence against civilians around Syria. On their side, the government point to the atrocities committed by the rebel groups.In August a report by the UN human rights investigators said that both Syrian government forces and rebel fighters are committing war crimes during the conflict.The Syrian Observatory of Human rights said Wednesday that according to their estimates more than 45,000 people have been killed in Syria since the start of the uprising in March 2011."In all we have documented the deaths of 45,048 people," the watchdog's head Rami Abdel Rahman was quoted by AFP. He specified that those killed included "31,544 civilians, 1,511 defectors, 11,217 soldiers and 776 unidentified bodies," but added that the real number could reach 100,000 people.However, UN statistics say that some 20,000 people have been killed in the conflict.
You can share this story on social media: