US senators threaten Iran nuclear talks with call for new sanctions at 'crucial' stage
A group of 14 US senators announced they are calling for a new package of sanctions against Iran, just as Russia's foreign minister arrived in Geneva for what Iran called a "crucial" phase in the talks with the P5+1 group on its nuclear program.
The talks are now focusing on the actual text of the agreement, Iranian Foreign Minister Mohammad Javad Zarif told reporters Friday.

"There remain just one or two unsolved questions," Itar-Tass quoted Zarif as saying. Those may include the construction of the plutonium reactor in Arak, which the Iranian official earlier called "one of the most controversial issues."

Zarif's announcement came just before Russian Foreign Minister Sergey Lavrov arrived in Geneva to take part in talks.

However, just as Lavrov was scheduled to arrive, the US senators' call for extra sanctions on Iran appears to have added more pressure on already tough negotiations.

"A nuclear weapons capable Iran presents a grave threat to the national security of the United States and its allies and we are committed to preventing Iran from acquiring this capability," the group said in a statement.

Among the political heavyweights pushing for new economic sanctions against Iran are Democrats Robert Menendez, chairman of the Senate Foreign Relations Committee and Charles Schumer as well as Republican Senators Bob Corker and John McCain, a member of the Foreign Relations and Senate Armed Services committees.

"We will work together to reconcile Democratic and Republican proposals over the coming weeks and to pass bipartisan Iran sanctions legislation as soon as possible," the statement read.

In the meantime Senate Majority Leader Harry Reid said that he will go ahead with the bill on new sanctions next month if Geneva talks fails.

"I will support a bill that would broaden the scope of our current petroleum sanctions, place limitations on trade with strategic sectors of the Iranian economy that support its nuclear ambitions, as well as pursue those who divert goods to Iran," Reid said.

Meanwhile, legislation proposed on Thursday by Senator Bob Corker is seeking to limit President Obama's ability to offer sanctions relief to Iran. According to the bill Obama would have only 240 days to strike a deal and would be required to prove any relief supports American national security interests.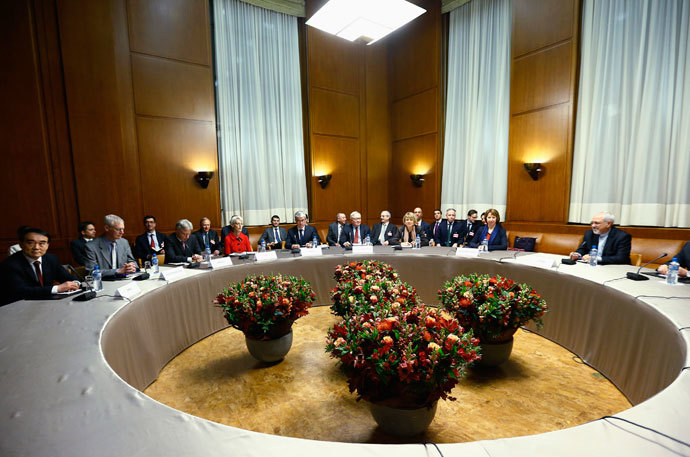 Zarif and P5+1 chief negotiator Catherine Ashton earlier held a 4.5-hour-long meeting.

"It has been very detailed it has been very substantial," Ashton's spokesman, Michael Mann said. "We are making progress."

One source from the European delegation told AFP that negotiators are "making progress" with "fewer points" of the draft agreement remaining in "brackets."

"But obviously the remaining issues are the hardest ones," the source added. "[Friday] will be important."

Meanwhile Israel remains on the offensive to stop the negotiations from advancing as Tel Aviv demands an immediate end to any of Tehran's nuclear ambitions.

At a meeting Thursday morning with Jewish leaders in Moscow, Prime Minister Benjamin Netanyahu once again said Iran's Supreme Leader Ali Khamenei had shown his true face on Wednesday.

"[Khamenei] called Jews 'rabid dogs' and said that they were not human," said Netanyahu. "The public responded to him with calls of 'Death to America! Death to Israel!' Doesn't this sound familiar to you? This is the real Iran! We are not confused!"

Iran's Supreme leader indeed delivered a speech just before the resumption of talks in Geneva, in which he used harsh words to emphasize that the Islamic system is "not after a war with others."

"Sometimes this is heard from the enemies of Iran, such as from the sinister mouth of the unclean rabid dog of the region in the Zionist regime," he said, referring to Israeli's Prime Minister Benjamin Netanyahu. 
You can share this story on social media: