Putin: Now there's a real chance of solving Iranian nuclear problem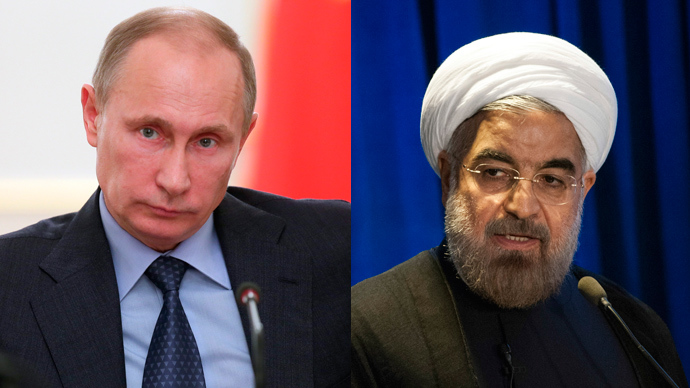 Russian President Vladimir Putin says there is now a "real chance" to find a solution to Iran's "longstanding" nuclear problem. The statement comes after Putin discussed the issue on the phone with his Iranian counterpart, President Hassan Rouhani.
"In the context of the Iranian nuclear program, Putin emphasized that currently there is a real chance to find a solution to this longstanding problem. In turn, the leader of Iran commended the ongoing work Russia is conducting in the framework of the six international mediators," the Kremlin's press-office said in a statement issued following the phone call between the two leaders. 
President Putin and President Rouhani spoke two days before a scheduled meeting between Iran and P5+1 [the five members of the Security Council plus Germany], all of whom support curbing Tehran's nuclear activity. 
The group has repeatedly accused Tehran of developing a nuclear weapon, a claim which President Hassan Rouhani and other Iranian leaders have denied. Tehran has always reiterated that its enrichment facilities and stockpiles of enriched uranium are solely for medical and civilian purposes. Now the P5+1 countries are asking Iran to give concrete guarantees that its nuclear program will not be used to build nuclear bombs.

While talking to President Putin, Rouhani again stressed that Iran's nuclear drive is "peaceful and under the control" of the UN atomic agency.

A new round of discussions will begin again on November 20. Previous negotiations on November 7-8 ended with no deal struck.  
Iranian President Hassan Rouhani has warned against "excessive demands" as this may complicate "the process towards a win-win agreement."

"From our point of view, there should not be a situation in which the will of parties to reach mutually acceptable agreement is affected," Rouhani told Putin, AFP reports. 

President Putin's comments made during the talk with Rouhani echoed remarks of a senior US official, in which he said that the P5+1 and Iran are moving closer towards reaching an agreement and that a deal is "quite possible" when negotiations restart in Geneva.

"For the first time in nearly a decade we are getting close to a first-step...that would stop the Iranian nuclear program from advancing and roll it back in key areas," Reuters cited the official on November, 16.

The two presidents have also discussed the situation in Syria with both Putin and Rouhani confirming "their commitment to the peaceful settlement of the conflict". The Presidents also noted the importance of the preparation efforts for the international Geneva-2 conference, the Kremlin said in the statement.
You can share this story on social media: