Saudi activist sentenced to 300 lashes, 4 yrs in jail after calling for constitutional monarchy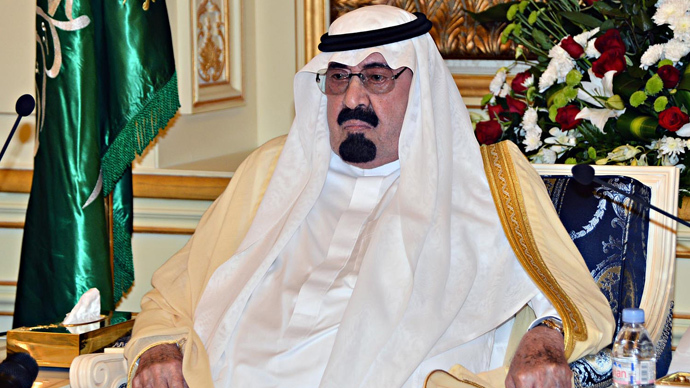 A Saudi Arabian political activist was sentenced to four years in prison, 300 lashes, and a travel ban after calling for a constitutional monarchy. He is the fourth member of the Saudi Civil and Political Rights Association (ACPRA) to be jailed this year.
ACPRA's Omar al-Saed, 24, was jailed after the organization called for democracy and made statements criticizing the country's ruling family over its human rights record, Reuters reported.

Al-Saed berated the motivations behind his imprisonment via the ACPRA website in a statement released by the group on Friday: "I am the proud prisoner Omar Mohammed al-Saed. I read out to you the motives and causes of my imprisonment: my hatred of injustice, the fabrication of pain and misery, taking advantage of passive attitudes, treating them as if they were fools, and denying them their livelihoods for brutal personal ambition," he said.

Al-Saed was not allowed legal representation at the secret hearing in which he received his sentence, according to an ACPRA statement. The judge denied that the session had been kept secret, but al-Saed rebutted that for a session to be public, it must be announced prior to its taking place so that proper representatives are able to attend and people can bear witness to its proceedings.

"This unjust sentence is an honor and pride to Omar al-Saed and a disgrace and shame to Judge Issa al-Matrudi," the activist's brother, Abdullah al-Saed, tweeted after learning of the sentence late on Thursday.

"It's just another troubling instance of Saudi authorities' absolute refusal to countenance any activism or criticism of Saudi policies or human rights abuses," Adam Coogle, a Middle East researcher at Human Rights Watch told Reuters on Sunday.

A spokesman for the country's Justice Ministry would not confirm the accuracy of the report to the agency.

Media in the country is strictly self-censored. Political dissent or criticism of the royal family is not tolerated, and protests are outlawed.

At the end of November, two Saudi men were arrested for offering 'free hugs' to passersby, on the grounds that they were "indulging in exotic practices" and offending public order.

Amnesty International has spoken out against the regime's oppressive practices, releasing a report titled "Saudi Arabia: Unfulfilled Promises" in October.

The report slammed the country for failing to implement any of the main recommendations they accepted under a previous review by the Human Rights Council (UNHRC) which took place in 2009.

Saudi Arabia remains one of the top five executioners in the world. The death penalty is still applied to a wide range of non-lethal crimes such as adultery, armed robbery, apostasy, drug smuggling, kidnapping, rape, "witchcraft," and "sorcery." Since 2009, appeals by the growing human rights movement in the country have been met with harsh measures such as arbitrary arrests, detention without charge or trial, unfair trials, and travel bans, Amnesty stated.