China satellites spot suspected Malaysia Airlines plane debris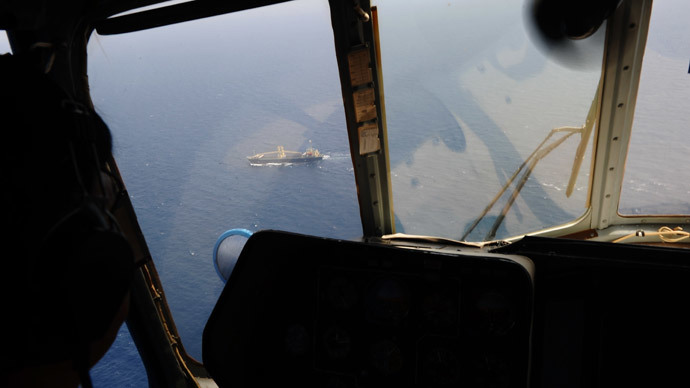 Chinese satellite images show three floating objects suspected to be debris from the missing Malaysian Airlines flight MH370, according to reports. Coordinates place the fragments in the South China Sea between Malaysia and Vietnam
The three objects are sized 13x18, 14x19, and 24x22 (meters), according to CNN.
The images, from China's State Administration for Science, Technology and Industry for National Defense, were taken on Sunday morning but only released Wednesday, the BBC reported.
Image from Chinese satellite on 9th shows an object in the possible site of MH370. Verification is in progress. pic.twitter.com/Ag1FExZLUz

— CCTV America (@CCTV_America) March 12, 2014
Flight MH370 went missing on Saturday morning local time. The China-bound plane left Kuala Lumpur, Malaysia with 239 people on board. The plane lost communication about an hour after taking flight.
If the location holds true, it would indicate that the plane crashed not far from the last confirmed radar contact with MH370. It would also contradict reports this week that the plane had turned around, heading back to Malaysia as far as the Strait of Malacca.
"It also ties in with an earlier claim from an oil rig worker who claimed he saw a plane on fire over the South China Sea, southeast of Vietnam," the Guardian wrote.
Malaysian authorities who met with the relatives of the flight's passengers on Wednesday told them that the last radio transmission from MH370 was either "All right, roger that," or "All right, good night," according to different reports.
Images from Chinese satellite on 9th shows three objects in the possible site of MH370. Verification is in progress. pic.twitter.com/AQzdLdfiI6

— CCTV America (@CCTV_America) March 12, 2014
CNN BREAKING: China satellite images show 3 suspected floating objects sized 13x18, 14x19 and 24 x22 (units are meters)

— Vaughn Sterling (@vplus) March 12, 2014
You can share this story on social media: