King of Bling: Sarkozy gave Obamas over $40,000 in gifts in 2011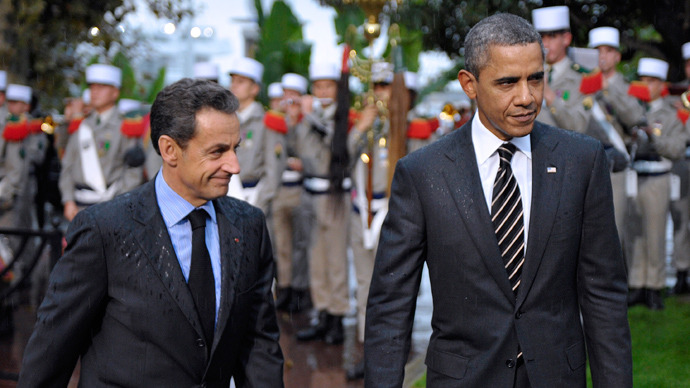 The US leader and his family were showered with extravagant gifts by former French President Nicolas Sarkozy and his wife, Carla Bruni, in a year when most of the world was still grappling with a global recession.
Although it is an age-old tradition among world leaders to exchange presents during official visits, the prodigious spending Nicolas Sarkozy lavished upon US President Barack Obama and the First Lady is being lambasted as a tasteless display of extravagance at the worst possible time.
The list of presents the Obamas received from Sarkozy in 2011, detailed in a newly released report by the US State Department, included a designer Hermes golf bag ($7,750) and Baccarat crystal table lamps ($5,500). The total amount of gifts given to the Obamas by the former French president and Miss Bruni was listed at $41,675.71 in 2011 alone.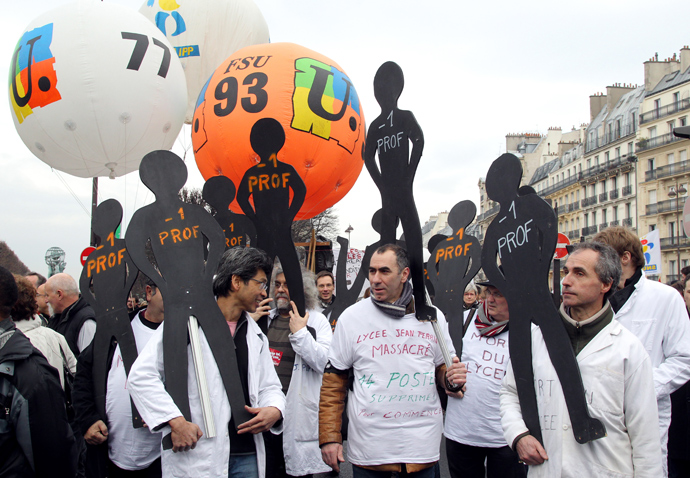 The ostentatious display of gift-giving by Sarkozy may have been ignored had the world not been suffering a brutal hangover from the worst economic downturn since the Great Depression. The ominous clouds hanging over the US and global economy were summarized by the International Business Times when it reported on Sept. 23, 2011 that
"The US economy is barely growing at all. Companies aren't hiring. The federal budget deficit is above $14.5 trillion." 
The Sarkozys opened the public purse for the Obama family with luxury items totaling $41k in 2011, among them:

- Lacoste white classic men's polo shirt, bottle of Christian Drouin Pays d'Auge, S.T. Dupont black and silver fountain pen, 14 inch blue-gray glass sculpture of Bucephalus, Alexander the Great's horse: Valued at $15,083 (May 2011)
- Hermès golf accessory bag: $7,750 (January 2011)
- Silver watch with black wristband made by B.R.M., Lancel brown leather woman's wallet, Lancel black leather folding toiletry bag, his-and-hers Dior bathrobes, Lancel black leather suitcase, Christian Dior black leather clutch purse, Men's Dior hygiene products: $6,191 (November 2011)
- Baccarat 'Our Fire' crystal table lamps: $5,500 (January 2011)
- Black leather Neo Igor Louis Vuitton men's business bag, monogrammed 'B.O.' $2,310 (December 2011)

Source: https://www.federalregister.gov/

Each gift was graciously accepted, because to do otherwise could cause embarrassment and strain relations between Paris and Washington, a US government spokesperson said. All gifts presented to the president or the First Family are required to be handed over to the National Archives.
Although Sarkozy's big-spending ways may shock Americans and much of the world, it will probably come as no surprise to the French.
Last year, French Socialist MP Rene Dosiere exposed the lavish lifestyle enjoyed by Sarkozy and Bruni in a book titled 'L'argent de l'État' (Money from the State). Living inside of Elysee Palace on a budget that reportedly exceeded that of the Queen of England, Dosiere revealed that Sarkozy spent over $15,000 on food and $1,000 on flowers daily, while maintaining a fleet of over 100 automobiles in the palace garage.

Bad Timing
The revelations of excessive spending on flashy gifts come at a particularly bad time for Sarkozy, who may face serious charges connected with his campaign funding. This month, France opened a judicial investigation into allegations that Sarkozy's 2007 election bid received illicit funds from late Libyan leader Muammar Gaddafi, the public prosecutor's office announced on April 19.
Sarkozy, who was a leading supporter of a NATO-led military campaign that resulted in Gaddafi's overthrow and brutal death at the hands of rebel militants in 2011, has denied any wrongdoing.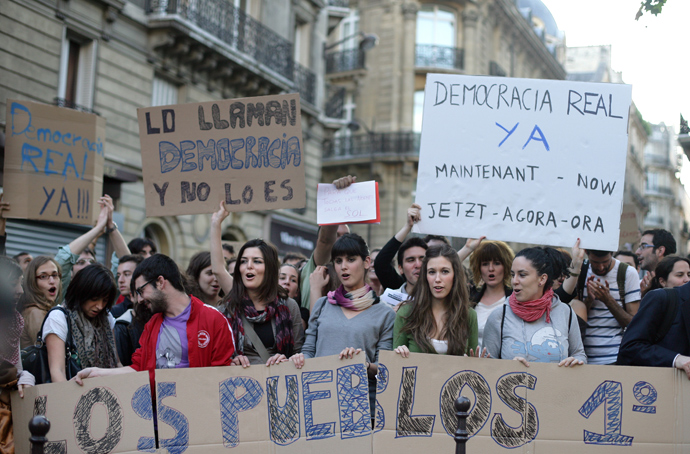 The investigation into Sarkozy's fundraising activities adds to the legal issues haunting the former president after losing last year's presidential election – a defeat that also cost him the immunity he enjoyed during five years as French leader.
Sarkozy has also been accused of accepting millions of dollars worth of illegal funds from Liliane Bettencourt, the L'Oreal heiress and France's richest woman.
But despite the setbacks, there are still some French voters who hope spendthrift Sarkozy will make a return presidential bid in 2017.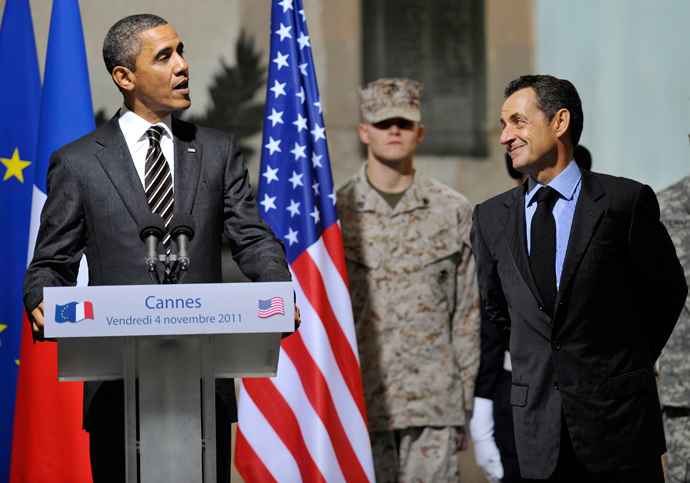 Although Sarkozy gave Obama over $40,000 in luxury gifts, the French leader was outdone by Ali Bongo Ondimba, President of the Gabonese Republic, who presented Obama with a 14-inch blue mask sculpture by Daum on June 9, 2011. The estimated value of the artwork is $52,695.00.
Gifts to Obama and his family from foreign leaders totaled $243,970.96 in 2011, according to USA Today, citing a State Department report.
In a breakdown of the gifts' cash value, the US leader came out far ahead of his family: Obama received $194,125.33 in gifts; those presented to both the president and First Lady Michelle Obama totaled $21,438.78; the First Lady's received $22,343.59; daughters Malia and Sasha's received $6,063.26.
You can share this story on social media: