13 killed as Russian bus crashes into truck, catches fire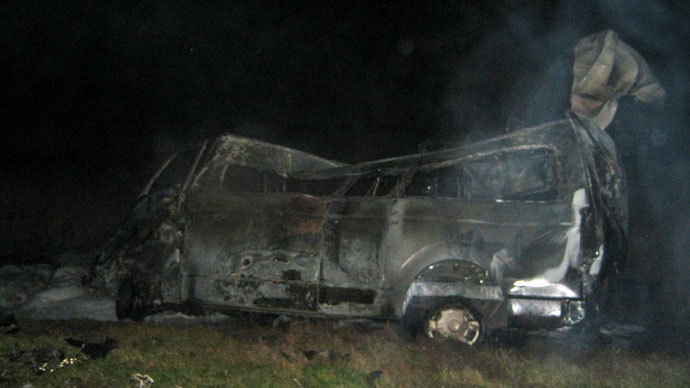 Police are investigating a fatal collision between a minibus and a truck that left 13 people killed and three injured in central Russia. The surviving bus driver, who has a record of traffic violations, is suspected of reckless driving.
The incident happened Saturday just before midnight, on a highway connecting the cities of Samara and Uralsk. A Toyota minibus carrying 14 passengers swerved into oncoming traffic and hit a Mercedes truck head-on, police reported.
A fire started after the collision, charring the damaged bus. Thirteen passengers were killed, while another one and both drivers were injured and have been taken to hospital in a serious condition.
Police initially said that the collision had likely been caused by a flat tire on the bus. But later they identified the bus diver as an Uzbek citizen with a long record of traffic violations.
A criminal case was launched and the driver has been taken in custody. The driver could face a maximum of seven years in prison if found guilty of causing the crash.
Eleven of the people killed in the collision are from Uzbekistan as well. Two others are from Tajikistan and one from Azerbaijan. Many people from the three former Soviet republics work in low-paid jobs in Russia.