6 killed as train hits bus in Ottawa, Canada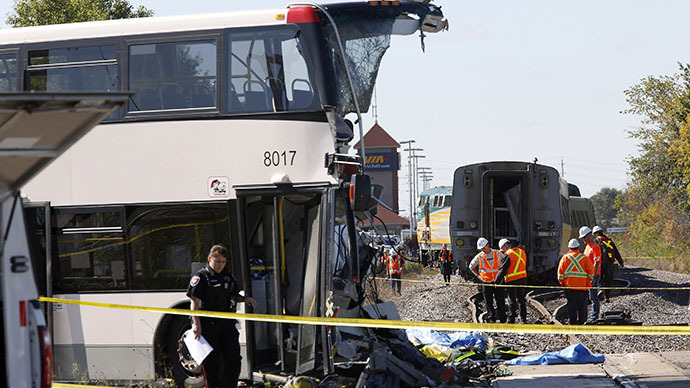 At least six people have died and 11 others sustained serious injuries as a passenger train collided with a double-decker city bus in Canada's capital, Ottawa. The front end of the bus was virtually ripped off in the crash, witnesses said.
The accident involving an OC Transpo bus and VIA Rail Toronto-bound Train 51 occurred just outside a suburban train station in Ottawa's west end in the middle of the morning commute, with paramedics called to the scene at 8:49 am local time.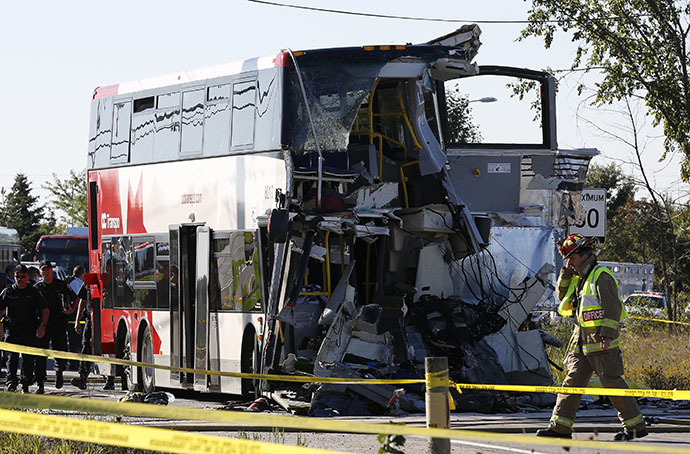 The front of the bus was sheared off and the engine of the train derailed, but the train cars remained upright with little noticeable damage.

One of the bus passengers, Gregory Mech, told CBC News that the bus went through a closed safety barrier despite the people on board screaming for the driver to stop.  

Another witness, Mark Cogan, told AP that the bus "just kept going" as it "went through the guard rail and just hammered the train, and then it was just mayhem."

Ottawa emergency officials said there are six confirmed fatalities in the collision, with 31 people transferred to hospital – including 11 crash victims in critical condition.   
The bus driver, who was killed in the crash, was identified as Dave Woodard, a 10-year veteran at OC Transpo, CBC cited multiple sources as saying. However, Ottawa police declined to confirm his name.
Three out of six people who died in the crash have been positively identified, Ottawa Police Chief Charles Bordeleau said during a 20:00 GMT media briefing. Authorities are now in the process of notifying their families.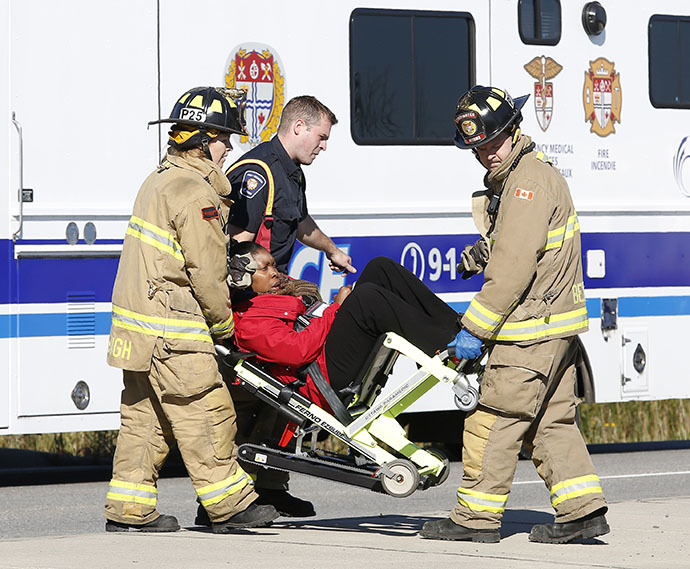 All the casualties are among the people in the bus, with Canada's national passenger service operator, VIA Rail saying there were no major injuries reported on the train.

The passengers on the train said they only felt a small impact, Reuters reports.

"Our thoughts and prayers are (with) the families of those involved," Canadian Prime Minister Stephen Harper wrote on his Twitter page. 
Ottawa Mayor Jim Watson called the crash the worst in the city's history. 


The Transportation Safety Board (TSB) of Canada will head up the investigation, with some help from Ottawa police and the coroner's office.
A TSB investigator said that the priority is to recover the black boxes of both the train and the bus, in order to reconstruct the events leading up to the accident and learn more about the speed of the vehicles. 
It could take months to complete the full TSB investigation, said chief operating officer Jean Laporte.
The current accident comes just months after 50 people lost their lives in a runaway freight train crash and explosion in Lac-Megantic, Quebec.
The scene at Fallowfield and Woodroffe #cbcott#octranspo#viapic.twitter.com/vcqupCaECZ

— Giacomo Panico (@GiacomoPanico) September 18, 2013
#BREAKING: #PHOTO after #VIA train collides with bus in #Ottawa today. pic.twitter.com/qij9SjPlXf

— Steve Roberts (@SteveRoberts999) September 18, 2013