Russian peacekeepers to patrol security zones in Ossetia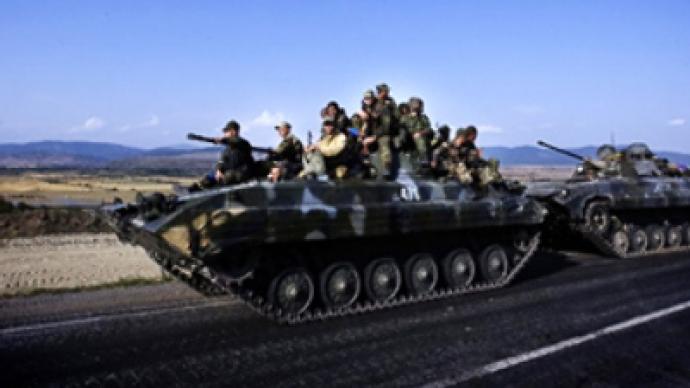 The withdrawal of Russian troops from Georgia has been completed in line with the plan aimed at settling the conflict in South Ossetia, according to military officials. The pact, worked out by the Russian and French pres
Reports are coming through of a series of strong blasts in the South Ossetian capital of Tskhinvali, near the camp of the Emergencies Ministry. According to preliminary reports, the blasts occurred at an ammunition dump where military equipment confiscated from Georgians during the conflict was being kept.
The blasts lasted for a little over five minutes, then continued after after a break. Black dense smoke is reported to have enveloped the camp.
Earlier, questioned about the legality of Russia's peacekeeping presence in the buffer areas at a news conference on Saturday, Russia's Deputy Chief of General Staff Anatoly Nogovitsyn quoted a statement by French President Nicolas Sarkozy.
"These additional measures to provide security would mean patrols by Russian peacekeeping forces in the areas specified by the existing agreements along with the withdrawal of the Russian forces to their positions as they were on August 7, before the start of the war," he quoted Sarkozy as saying.
Nogovitsyn said this confirms the legitimacy of Russia's patrols of the buffer areas.
According to the Deputy Chief of General Staff, Russia has set up 18 peacekeeping posts in security zones in South Ossetia and would build as many in Abkhazia "in order to deter looters and the transportation of arms and ammunition."
Russian troops to patrol Georgian port
A Russian peacekeeping contingent will control the Georgian port of Poti in line with the six-principle agreement, said Nogovitsyn.
"These patrols were envisaged in the international agreement," he said. "Poti is outside the security zone, but that does not mean we will sit behind a fence watching them riding around in Hummers," he added.
Renewed conflict fears
Georgia is intent on achieving territorial integrity at any cost, and may be planning another attack on one of its two breakaway republics, said Nogovitsyn.
"The potential of the Georgian armed forces is being restored only for a new aggression. In its desire to resolve the territorial problem at any cost, it has in fact declared preparations for the third conflict, as they [the Georgian leadership] apparently find the previous two not enough," he added.
The local population say they fear that Georgia might repeat its aggression in the region. They also say they hope Russian troops will stay in the area to shield them from any possible attacks.
You can share this story on social media: