Russian Empire's gold found in Lake Baikal?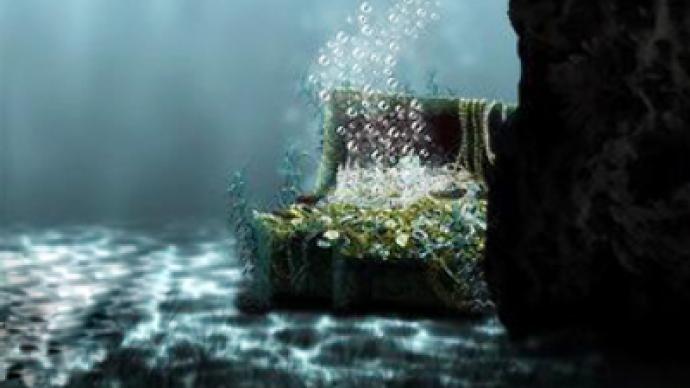 MIR submersibles have discovered fragments of an early 20th century train at the bottom of Lake Baikal, which may possibly carry so-called "Kolchak gold", part of the gold reserves of the Russian Empire.
The remains of the train cars, presumably of the Civil War times, were discovered within the MIR submersibles' expedition to the depth of almost 700 meters in the southern part of Lake Baikal. Some parts of the discovered train were lifted from the bottom.
Legends have grown around the story of Admiral Kolchak, a Russian naval commander, polar explorer and later head of part of the anti-Bolshevik White forces during the Russian Civil War, and the Tsar's gold he was traveling with in the area in the times of Civil War of 1917–1923.
Admiral Kolchak's army fled eastward along the Trans-Siberian Railway and came to a halt on the shore of Lake Baikal near Irkutsk. With the Red Army in hot pursuit, the White Army had to escape southward to China across the frozen Lake Baikal in sub-zero temperatures.
That's where, according to the legend, a train probably carrying the gold from the reserves of the Russian Empire crashed. By coincidence, the surprising discovery was made right near the 90th kilometer of the Krugobaikalskaya railway in the Southern part of the Lake.
"The intrigue around the discovery remains, because it is impossible to tell for sure whether Kolchak's gold is lying there now, or it never was. For today this question remains unanswered," the head of Lake Baikal Preservation Fund, Bair Tsyrenov says in the fund's report.
Research in this area is planned to be continued. Scientists surveyed the area where throughout several centuries Russian and foreign merchants transported goods, and where people stopped at halts and crossed the lake ice. Together with the geological research of the lake, and its flora and fauna as a part of the natural-scientific program of MIRs in Baikal, the expeditions will also search for artifacts of the 18th and 19th centuries.
You can share this story on social media: