Love gets Bollywood star stranded in Russia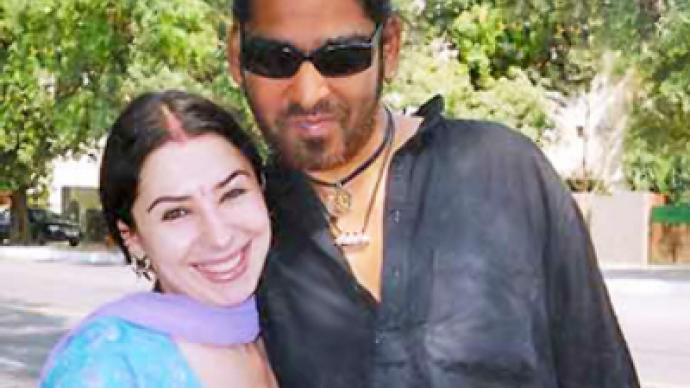 Enchanted by a Russian beauty, an Indian actor decided to trade in his Bollywood career for marrying his sweetheart and leave for her hometown, only for him to end up near-destitute.
Arman Kumar Jha's career was on the rise in Indian film industry. He already had several commercials and soap operas behind him, and had just entered feature films, where he played charismatic villains.
That was when he met Christina, a girl from the Far Eastern Russian city of Ussuriysk. She was a dancer and enamored with Indian culture, and in Delhi she studied Indian dancing styles. Arman fell madly in love with her and started courting.
"He was running after me everywhere. Gave me flowers, sang songs and told stories. He was courting me like in a movie," she told tabloid Komsomolskaya Pravda.
Finally the Russian beauty was won over by Arman's charms, and the couple got married in India. Regrettably, Christina did not want to live in the Asian country all the time because she could not tolerate the hot and humid climate. During the summers she went back to Russia.
It was in Ussuriysk that she gave birth to their daughter Aria. The happy father was in India at the time trying to get his paperwork to get a permit for living in Russia. He decided to leave his promising career to be with his family.
"He was calling us every day, singing to her on the phone. Our little Aria now understands three languages: Russian, English and Hindi," Christina says.
However, when Arman finally re-joined Christina, he found out that love did not conquer all. Barely knowing the Russian language, he had no chance to get a job at a theater as he had hoped to, while the cost of living in Russia was much higher than in India.
"In Delhi I could rent a three-room apartment for $300 a month. In Ussuriysk it's enough for just one room," he told a local newspaper.
Now the man earns in a month the money he would get in two days of acting back in India. Even cigarettes are a luxury for him. Cristina's job opportunities are no better, since the city has little demand for Indian dancers.
Arman is now forced to work as a street cleaner and is saving money for a trip back to India. He hopes he'll earn enough in his homeland to support his family from abroad.
He refuses to borrow from his parents, because he sees his perils as a disgrace and cannot tell them.
You can share this story on social media: