Russian daredevils climb Europe's tallest building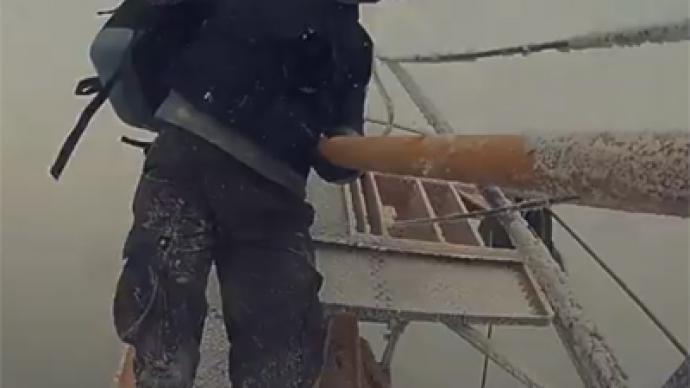 Five skyscraper-scaling Russians recently challenged themselves to climb to the highest point of Moscow's Mercury City Tower without a safety net, and touch the end of a rooftop construction crane that hovers 370 meters above the cold ground.
At 339 meters high, the still-under-construction Mercury City Tower in Moscow recently stole the title of Europe's tallest building from London's Shard.Five Russian youths calling themselves 'Raskalov and Co' developed a thorough plan to climb to the highest point of the construction crane on the very top of the building.Before the start of their mission, group leader Vitaly Raskalov and his friends observed the area for several weeks, studying the workers' schedules and the locations of cameras.
Mercury City Tower is protected by a sophisticated security network that makes it nearly impossible for "regular guys" to get in legally, Raskalov said, adding that the building is "one of the most expensive and protected buildings in Russia."There are roving guard patrols, CCTVs, motion detectors and a "real-life anthill of Turkish construction workers who will not only call the alarm if they see anyone, but can also beat you up really badly," he said.
The climbers snuck into the building dressed as construction workers and climbed the stairs to get to the top of the 75-story skyscraper. The group had to wait for the crane operator's shift to change. During the switchover, they had about five minutes to complete their mission.Two members of the group base-jumped off the building, taking footage in process. The other three started climbing the crane, which is so high in the atmosphere that it's shrouded in clouds and plated with ice.
"As it turned out, the hardest part is to get down from the crane. The icy beams are at such an angle that it is not just difficult, but very difficult to descend," Raskalov wrote on his blog.The three daredevils left their mark at the top of the crane – a few lightning-shaped stickers. Raskalov and his friends documented the entire enterprise in an eight-minute video. 
The group recently started a web project about extreme sports where they write about their urban adventures and post astonishing photographs.The previous tallest building in Europe, the Shard, was ascended by a group of British skyscraper climbers in April 2012. They bypassed the building's high-level security and took series of photos of London's skyline from a height of 310 meters.
You can share this story on social media: