No politics in space: ISS example of what Russia, US can achieve working together
The International Space Station is an example of what Russia and the US can accomplish by working together, US astronaut Michael Hopkins told RT, adding that the cooling relations between Moscow and Washington over Ukraine isn't felt in space at all.
Hopkins, who was part of the ISS crew together with Russian cosmonauts Oleg Kotov and Sergey Ryazansky from September 2013 until March 2014, has described his space trip as "absolutely amazing. More than I could've hoped for."
The astronaut said he had great working and personal relations with Kotov and Ryazansky, adding that he feels "very fortunate to be able to call them crewmates as well as very good friends."
Sharing such an experience as a spaceflight – from launch to landing – is very unifying, Hopkins stressed as he arrived in Star City, near Moscow, for his crew's official welcoming ceremony.
"You're very close together in the Soyuz [Russian spacecraft]," he said. "And then just the time – the daily time that you spend there – it's an experience that you always have. And I'll always look back at that memory of not just my time up there, but my time with them. And that's something very special and again – I consider them very close friends now."
According to the 45-year-old, the tensions between Russia and the US over the events in Ukraine "had no impact" on relations with his Russian crew members.
"I think, actually, the International Space Station is still an example of what our nations can accomplish when they work together," he said.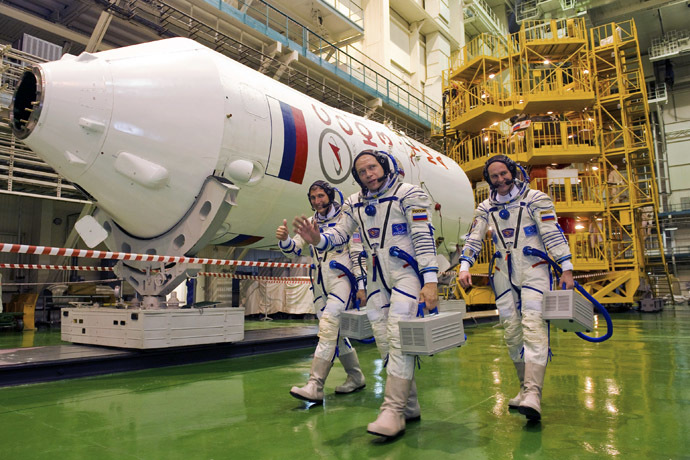 The commander of the ISS Expedition, Oleg Kotov, stressed that he's "really glad that Michael Hopkins, our colleague in the crew, has joined us today to take part in the welcoming party at the Star City."
"We, on our part, are planning to go to Huston in June… because it's very important for the propaganda of our joint scientific space program; in order to tell the people about the outstanding project, which is the International Space Station," he said.
According to Kotov, his colleagues and he have warm relations not only with Hopkins, but many NASA astronauts.
"We exchange e-mails. When they come to Russia or we come to Huston, we meet and spend time together," the 48-year-old, who has made three trips to ISS, spending 526 days in space, said.
The Russian stressed that it's "a great piece of luck" that NASA's ban on communication with Russian counterpart, Roskosmos, over Ukraine, which was announced on April 1, doesn't affect the ISS project.
"Halting or freezing [cooperation between Russia and US in space] is impossible because it can only be destroyed," he explained. "But that'll be an irretrievable loss. It won't be easy to restore this all by a political decision, a scratch of a pen. That's why the people, who work on this program – engineers, constructors, those, who manage the flights – are far from politics and work to achive one common goal."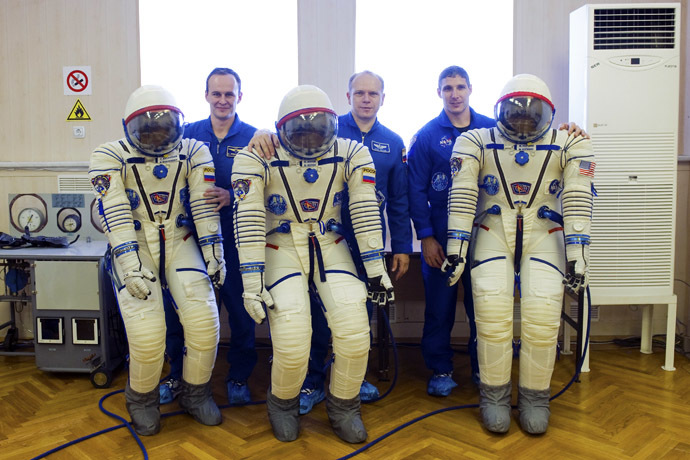 Another Russian ISS crew member, Sergey Ryazansky, also described the atmosphere at the station as "really friendly."
English language was used aboard as "Oleg and I are a lot better in English than he (Hopkins) is in Russian," he said.
But Ryazansky praised the American astronaut's knowledge of the Russian language as "he understood everything when it came to communication between the crew and Earth. He tried to be helpful. And that's very important."
According to the 39-year-old, the chill between Moscow and Washington didn't affect communication aboard "because we're professionals and we understand that the ISS can't exist without international cooperation."
However, the events in Ukraine and the push of the Republic of Crimea to rejoin Russia were among the topics discussed by the crew, he said.
Hopkins "showed an interest in understanding the Russian stance – our position. Because we were defending our position; trying to explain some historical aspects. Why it happened so? Why there are complications? Why it's hard to understand to the West? Really, it's not always plainly explained to the American people," Ryazansky explained.
"We watched both the Russian and US news on the station. We had a chance to compare the different ways the information is presented," he added.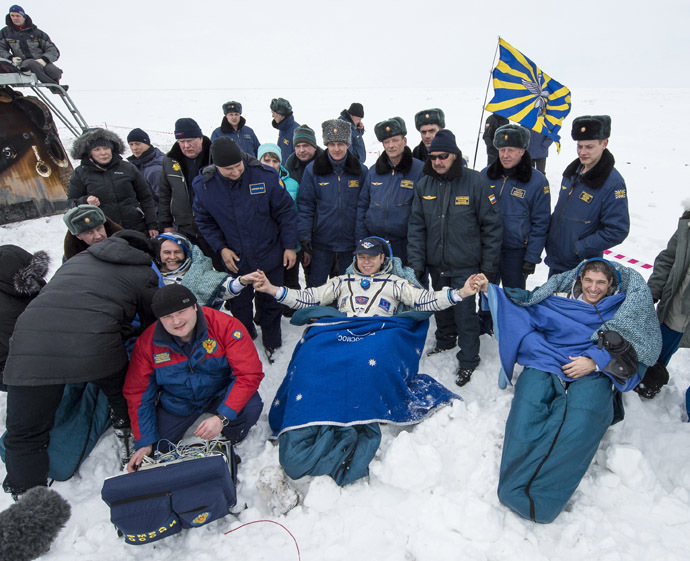 The cosmonaut also told RT about the ISS tradition to hold weekly dinners, at which the Russian-American crew could relax and share stories about their work and events in their families back on Earth.
Besides those dinners "the whole crew celebrated all the birthdays aboard the station. We celebrated the New Year according to both Russian and American time. Actually, we spent a lot of time together," he said.
It was their first ISS expedition for both Ryazansky and Hopkins, with the Russia suggesting that it was one of the reasons why they became "such great friends."
"Our wives became friends as well. They exchange letters and communicate. It's very important that they supported each other during our flight. I hope that we'll keep company and keep communicating. And maybe we'll fly to space again someday," he said.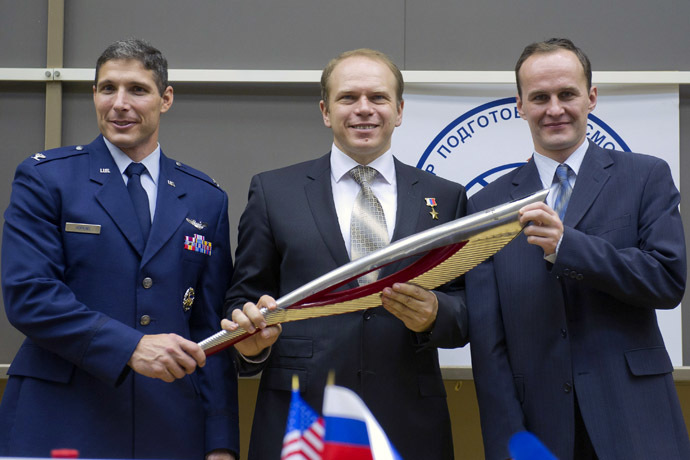 Hopkins, Kotov and Ryazansky have spent 166 days at the ISS, safely landing in Kazakhstan on March 11.
The Russians made history during the expedition after they took an Olympic torch for a spacewalk for the first time ever last November during the Sochi 2014 torch relay.
The International Space Station was launched into the Earth's orbit in 1998, with Russia and the US being the largest contributors to the project, with Japanese, EU and Canadian space agencies also participating.
Since the termination of NASA's Space Shuttle program, the crew of the ISS is delivered exclusively by Russian Soyuz rockets.
Relations between Moscow and Washington are at their lowest in years following the accession of republic of Crime to Russia on March 21.
The ultranationalist coup in Kiev prompted the Crimean peninsula – home to an ethnic Russian majority – to hold a referendum on its future within Ukraine. On March 16, over 96 percent of Crimean voters decided to cut ties with Kiev and rejoin Russia.
The move wasn't well accepted in Washington, which labeled the referendum illegal and imposed sanctions on Russia. The restrictive measures included travel bans and foreign asset freezes on Russian politicians and businessmen as well as the severing of cooperation with Moscow in many spheres – from trade talks to space exploration.
You can share this story on social media: