​Russian social media flashmob pokes fun at sanctions over Crimea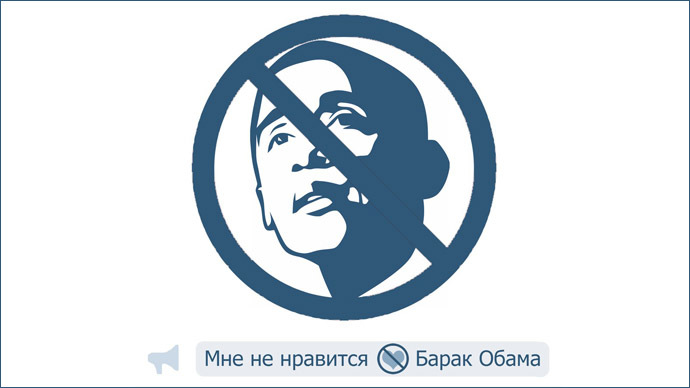 A tongue-in-cheek campaign against the sanctions imposed on Russia over Crimea has taken Russian social media by storm. Web users have dreamt up a whole range of retaliatory sanctions and flooded the internet with meme pics making fun of the penalties.
Under the banner of: "Sanctions against Russia are sanctions against me!" Russian social media users have launched an unorthodox protest against the US penalties. The site oursanctions.ru is encouraging social media users to think up their own sanctions and post them as meme pics on social media under the hashtag "МоиСанкции" or "MySanctions" in English.
Below are just some of the thousands of images being posted on Facebook, Instagram, Twitter and Russian social network, VKontakte.
This poster prohibits members of the US State Department from engaging in a range of traditional Russian activities, such as drinking Russian vodka, eating Russian pancakes and playing the balalaika.
http://t.co/TnPFij0OgS #санкцииобама #МоиСанкции Не играть на балалайке и ушанку не носить! pic.twitter.com/YhXIOgncEr

— Арт-группа Люди (@Artlyudi) March 21, 2014
"From 21/03/14 President of the US Barack Obama is not allowed to try any of my flavored vodkas. Up yours, baldy!"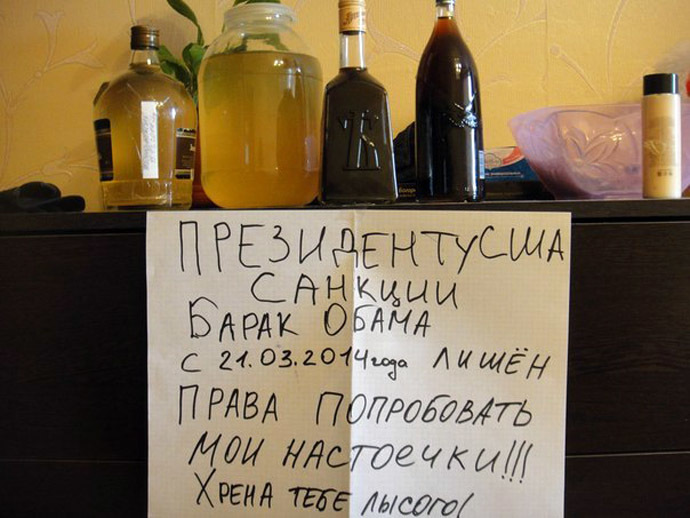 "President Barack Obama and member of Congress are forbidden from stroking my cat!" wrote one user on VKontakte.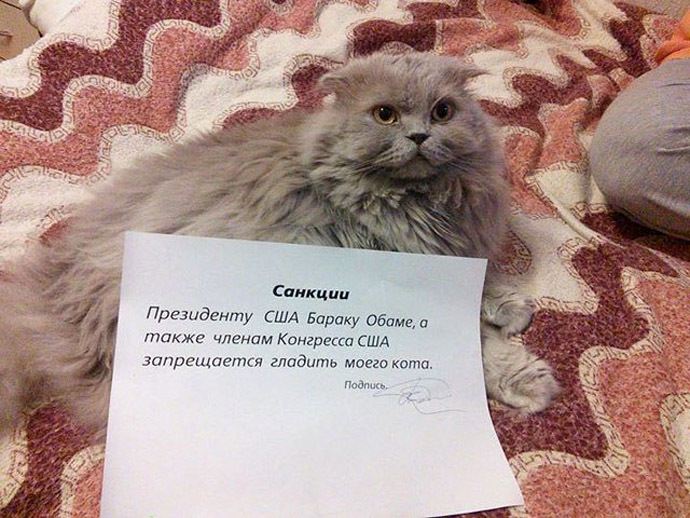 "Barack Obama, members of the Administration, Senate and Congress are forbidden from wishing me happy birthday," wrote kos77 on Instagram.


"This is what we think of your sanctions!"
#МоиСанкцииpic.twitter.com/xHdN7tzMZU

— РосТролль (@rostroll) March 23, 2014
"And then he says to me: "aren't you gonna invite me over?
And I'm like: "sorry – sanctions!"

Санкции против России - санкции против меня! #МоиСанкцииpic.twitter.com/51j21K0lFm

— РосТролль (@rostroll) March 23, 2014
"Sanctions! US President Barack Obama and members of Congress are not allowed in my car!"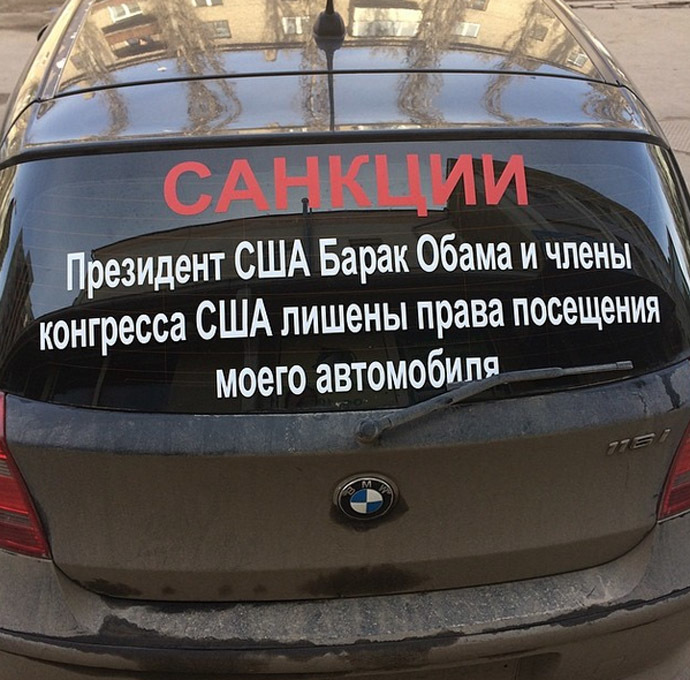 Tens of thousands of VKontakte users have also blacklisted President Barack Obama's page on the social media website.
In addition, over the weekend police detained 10 men in Moscow who had staged a protest in front of the American Embassy against the sanctions. The ten men stood outside the embassy building bare-chested with crosshairs drawn on their chests and "Shoot me!" written underneath it.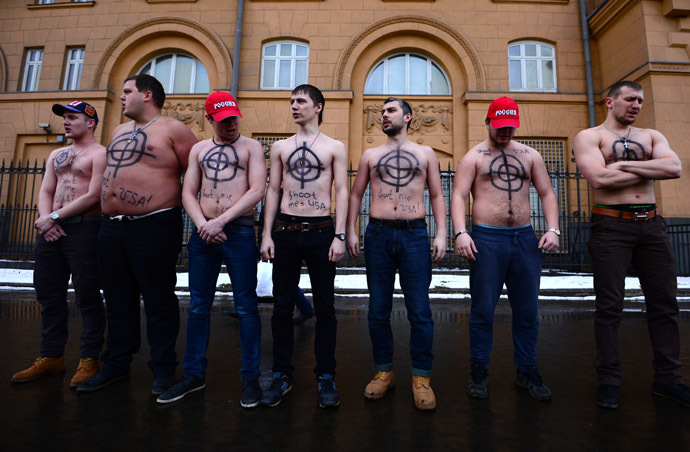 Last week, President Barack Obama announced the US would impose sanctions on Russia for its integration of Crimea. The financial penalties in question target 20 members of the Russian government, freezing any US assets they may have and barring them from making transactions in dollars. Visa and Mastercard have also blocked Rossiya bank and Sobinbank from using their services.
Russia, for its part, has said it will not impose any retaliatory sanctions and has condemned the penalties as "irrational and designed to assert US dominance."
Crimea held a referendum last week, with an overwhelming 96 percent of the population voting to become a part of the Russian Federation and break away from Ukraine. On Friday President Vladimir Putin signed the final decree, amending the Russian constitution and allowing for the integration of Crimea.
You can share this story on social media: