Armenia backs Crimea's right to self-determination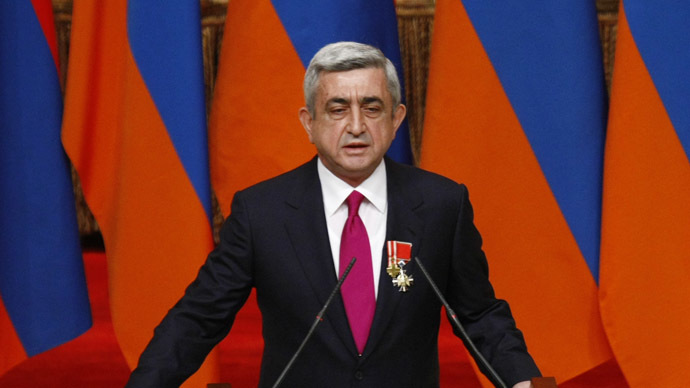 Armenia has backed Crimea's choice of joining Russia, supporting the right to self-determination for the peninsula's population. In response, Ukraine has recalled its ambassador to Armenia.
"Armenia's principled position on the right to self-determination remains unchanged and has been repeatedly expressed over the years," Armenia's deputy foreign minister, Shavarsh Kocharyan, told Ukrainian Ambassador Ivan Kukhta, as quoted by the Armenian Foreign Ministry's press service.
The meeting, which took place in Armenia's capital of Yerevan, was initiated by the Ukrainian side after Armenia's President Serzh Sargsyan expressed support for the Crimean referendum, stating it was justified.
Sargsyan told his Russian counterpart Vladimir Putin in a phone conversation that the Crimean referendum was a "model for the realization of self-determination."
In response, Ukraine recalled its ambassador to Yerevan for consultation on Friday.
Kiev also summoned Armenia's ambassador to Ukraine, Andranik Manukyan, to express its concerns over Armenia's position on the referendum.
On Sunday, over 96 percent of voters taking part in the Crimean referendum answered "yes" to the autonomous republic joining Russia. The Crimean parliament also unanimously voted to integrate the region into Russia.
On Friday, Russia finalized the legal process of taking Crimea under its sovereignty, as President Putin signed a law amending the Russian constitution to reflect the transition.
Earlier, Russian lawmakers ratified both the amendment and an international treaty with Crimea and the city of Sevastopol, which was legally required for the incorporation.
The move has been met with an onslaught of international sanctions against Russia for its role in the Ukraine crisis.
Armenia has a strong stance of supporting self-determination.
During the confrontation over Nagorno-Karabakh, which broke out in 1988, the region – mostly populated by Armenians – sought independence from Azerbaijan and announced its intention to join Armenia. In 1991, the Nagorno-Karabakh Republic was founded. Azerbaijan tried to regain control over the territory, and the conflict escalated into a full-scale war which claimed the lives of around 30,000 people. The conflict ended in 1994, with Nagorno-Karabakh's independence remaining unrecognized and the region remaining a part of Azerbaijan, according to Baku's legislation. Yerevan has been supporting the Nagorno-Karabakh region, representing its interests in an official capacity.
Since 1994, talks to determine the status of the disputed region have been conducted within the framework of the Minsk Group of the Organization for Security and Co-operation in Europe (OSCE). The group proposed the basic principles for a settlement of the conflict – known as the Madrid document – in 2007.
You can share this story on social media: