Russian opposition rallies: LIVE updates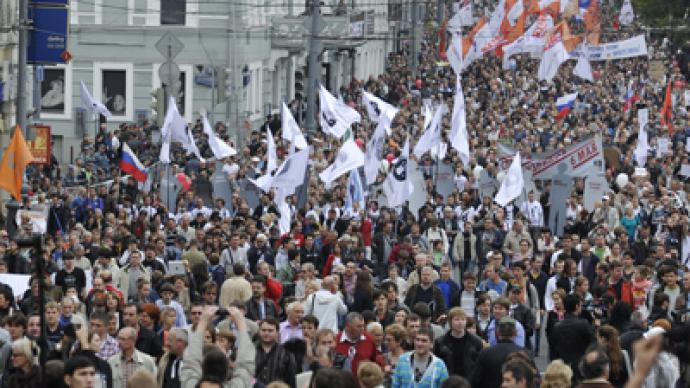 Russian opposition parties are holding rallies in the country's major metro areas on Saturday, with hopes of attracting thousands of demonstrators.
Protesters in Moscow marched along the city's central highway ring, and are demonstrating on Sakharov avenue. 18:09GMT: We are wrapping up our LIVE updates from the rally.18:08 GMT: Police are asking demonstrators to leave the avenue as the 10pm deadline has passed.18:05 GMT: Sergey Udaltsov, leader of the opposition Left Front Movement, has been arrested, RT's Egor Piskunov reports.14:59 GMT: Sergey Davidis, a leader in the Solidarity political movement, says the official portion of the protest has ended.14:49 GMT: Police estimate that around 1,000 people now remain at Sakharov Avenue.14:45 GMT: Sergey Udaltsov, the leader of Left Front Movement, said that the Russian opposition intends to hold its next protest on October 20.14:44 GMT: Social issues were an expected topic at the protest, but no specific ideas or decisions were put forward.14:32 GMT: One by one, opposition activists are taking the stage and calling for support for political prisoners, new political reforms and for early parliamentary and presidential elections.13:50 GMT: Some 3,000 to 4,000 people remain at Sakharov Avenue, police say.13:40 GMT: No arrests have been reported at the Sakharov Avenue protests. People are leaving the demonstration despite calls by opposition activists to stay longer.12:56 GMT: Police are starting to remove barricades to allow people to leave, RT's Irina Galushko reports from the protest. 12:52 GMT: Police have lowered the estimated number of people at the Sakharov Avenue protest to 11,000. People are beginning to leave the square, witnesses wrote on Twitter. 12:47 GMT: Social issues are taking center stage at the rally; there are many students in attendance holding posters with slogans against proposed education reforms. 11:49 GMT: Around 14,000 people are taking part in the opposition protest, Moscow police say.11:43 GMT: The opposition demonstration has begun on Sakharov Avenue, and communist activists are the first to take the stage there for speeches.11:40 GMT: Minor clashes have erupted between anarchists and nationalists, with police moving to separate the two groups.11:18 GMT: Protesters are shouting slogans like, 'Rights aren't given, they are taken,' 'Russia is a secular country, no to religious obscurantism' and 'Anarchy: Dreams come true.'11:17 GMT: Groups of protesters have reached Sakharov Avenue, with the demonstration set to begin at 12:00 GMT.
11:02 GMT: At least 11,000 people are participating in opposition rally, police report.10:46 GMT: Members of the crowd are arguing over whether the imprisoned members of Pussy Riot should stay in jail, RT producer Lida Vasilevskaya reports on Twitter.10:38 GMT: Part of Moscow's historical center is closed off due to the opposition rally, causing some traffic problems.10:32 GMT: Supporters of the punk band Pussy Riot are among the protesters.
10:27 GMT: Some 300 people are protesting in the city of Perm in the Russian Urals.10:18 GMT: Police reinforcements stationed themselves on Sakharov Avenue ahead of the demonstration.
10:09 GMT: Moscow police estimate that up to 5,000 protesters are taking part in the rally.10:08 GMT: Police deployed water cannons in central Moscow over concerns of possible clashes
09:47 GMT: Protesters are gathering in Moscow's Pushkinskaya Square for the opposition rally.