The new face of protest: Radical, young and connected
Published time: 13 Aug, 2012 13:02
Edited time: 13 Aug, 2012 19:28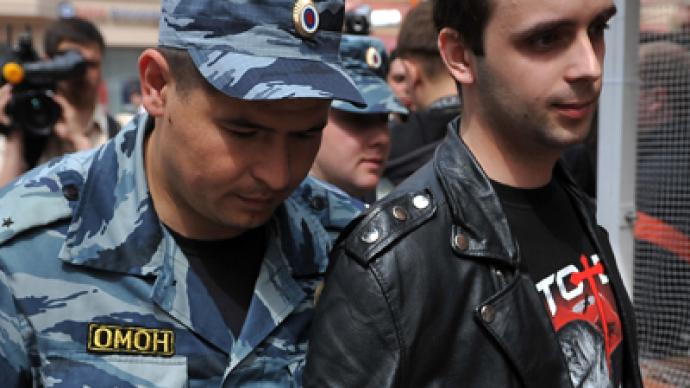 Political scientists believe that the protest movement in Russia will undergo change with the gradual withdrawal of liberals and the appearance of new parties on the political stage. Economic factors could also play a role.
According to Igor Bunin, president of the Center for Political Technologies, Russia may soon experience the rise of a radical new breed of protester.
"On the one hand, it seems to me that the protest movement will be more radical, more social, younger and more ready for direct actions," Bunin predicted.
Meanwhile, many of members of the opposition will disappear from the street scene because they aspire to real participation in the election process.
The current administration will not hinder these developments, he added.

The political opposition is made up of a mixed basket of characters, including Alexey Navalny, a political blogger and one of the leading figures of the protest movement; Boris Nemtsov, a former Deputy Prime Minister and co-chairman of the Republican Party of People's Freedom, also known as Parnas; Sergey Udaltsov, political activist and leader of the Left Front movement; and Vladimir Ryzkhov, also a co-chairman of PARNAS and the founder of the Republican party – one of the oldest parties in the country.
Bunin believes the general atmosphere of future street protests may become more radical in nature.
"The spirit of the protest movement is now different from December 2011; this spirit is more of a spirit of social conflict and is more radical," he warned. "The leaders are different, the liberal movement has become weak, while younger people – those who were born in the late 1980s – are now taking part in protests."
Coincidentally, Russia is waiting for the verdict to be passed down on the members of the feminist punk band Pussy Riot, who were arrested in February for delivering a protest song on the altar of Christ the Savior Cathedral in central Moscow.
The members of the band, all in their 20s, face up to seven years in prison for "hooliganism motivated by religious hatred."
Another analyst, Igor Yurgens, head of the Institute for Modern development, says the number of protest participants may increase if the economic situation in the country deteriorates sharply, which, he says, seems unlikely at the moment.
"The number of protesters will depend on the economic situation," Yurgens said. "In my view, we now don't have a situation where a sharp deterioration is anticipated, for example, a fall in the prices of our traditional exports."
Meanwhile, the number of opposition protesters may decrease considerably due to the creation of new parties, he said.
"New political parties have been formed, and they will help to erode the base of the protest movement," he said.
Concerning the choice of slogans used by the protesters, Bunin said the messages are politically ineffective and obsolete.
"I don't see any new slogans," he said.
He also believes that the number of future protesters is not expected to increase.
"I think the number will stay the same, up to 50,000 people per protest," Bunin said. "Udaltsov's plans to bring many more people are not feasible."
However, the movement will not disappear altogether anytime soon, he added