Russian 'anti-gay propaganda law' won't be enforced at Sochi 2014 Olympics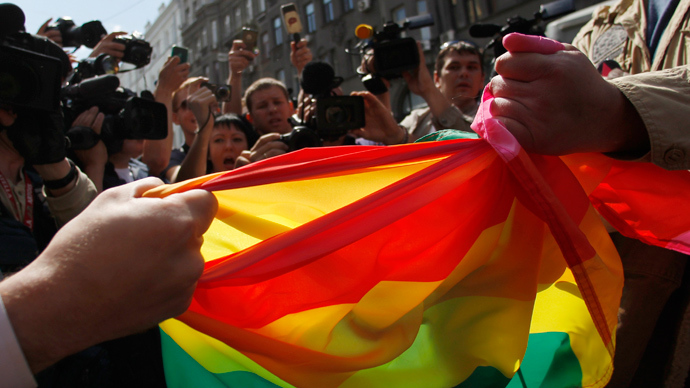 The Russian law against "gay propaganda" is not going to apply to the participants and guests of the Sochi 2014 Winter Olympics, a top lawmaker said.
READ MORE: Gay rights in Russia: Facts and Myths
"The Olympics is a major international event. Our task is to be as politically correct and tolerant as we can be. That's why we made the decision not to raise this issue during the Games," Interfax news agency cites said Igor Ananskikh, the head of the Russian Duma Committee on physical training, sports and youth, as saying.

Ananskikh's statement contradicts comments made by Russian Sports Minister Vitaly Mutko on Thursday, who said no concessions would be made to foreign athletes and visitors to the Sochi Olympics. 
"No one is forbidding an athlete with non-traditional sexual orientation from coming to Sochi, but if he goes onto the street and starts propagandizing it, then of course he will be held accountable," Mutko said.
The less stringent approach voiced by the Russian lawmaker is more in line with a previous statement by the International Olympic Committee, saying that it had "received assurances from the highest level of government in Russia that the legislation will not affect those attending or taking part in the Games."

Russian LBGT activists, however, believe concessions to foreign athletes and visitors during the Olympics are not enough, and will keep trying to overturn the gay propaganda law in court. 
"We will file an appeal to the Constitutional court before the Olympics start and if we do not succeed, will make an appeal to the European court of human rights", Russian gay rights campaigner Nikolay Alekseev says.
The legislation "prohibiting propaganda of homosexuality to minors" was enacted on June 30, when it was signed by president Putin. It's an amendment to the law "On protecting children from information harmful to their health and development".

If found guilty of promoting "non-traditional sexual relationships", individuals could face fines of up to 5,000 rubles (US$150). The sum would be multiplied by 10 if those individuals appear to be civil servants. Organizations, meanwhile, would have to pay 1 million rubles (about $30,000) or have their activity suspended for 90 days if they do not comply with the fresh amendment.

Supporters of the law have vigorously stressed it's not about punishing people for being homosexual, as was the case in the USSR, but rather intends to keep young people from being dragged into same-sex relationships.

Critics of the law have blasted that line of reasoning, saying young people will not become gay merely from hearing about homosexuality. They further argue the law does not specify which exact activities constitute "propaganda of non-traditional sexual relations", leaving the loose legal interpretation open to abuse.

The "anti-gay propaganda law" has been condemned by politicians and LGBT activists in a number of western countries. The Russian Foreign Ministry has been perplexed by the nature of the reaction, according to a statement by the Ministry's Commissioner for Human Rights Konstantin Dolgov.

"It bears remembering that this legislation has nothing to do with discrimination against sexual minorities, which, as any other discrimination, is absolutely prohibited by the Constitution of the Russian Federation. The amendments have been adopted solely for the sake of protecting children, who can be too young to objectively and critically assess the information forced upon them, which might do harm to their psyche and imbed distorted perceptions concerning human relations," Dolgov said.

You can share this story on social media: