Putin signs 'gay propaganda' ban and law criminalizing insult of religious feelings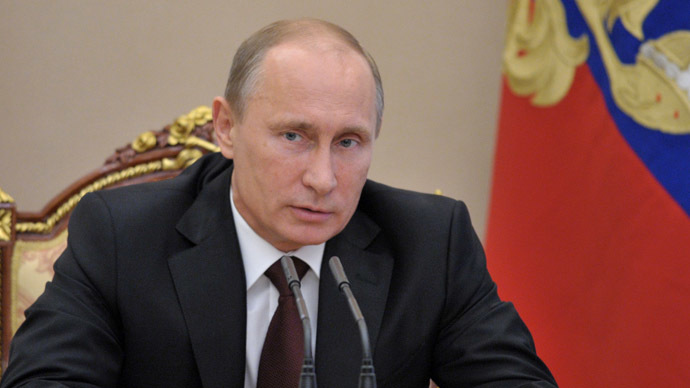 Russian President Vladimir Putin has signed two controversial laws strengthening the penalties for "propagating homosexuality among minors" and for insulting people's religious feelings in public.
Vladimir Putin has signed the so-called 'gay propaganda' bill after the upper house, the Federation Council, approved it on June 26 and the lower house, the State Duma, on June 11.

It introduces fines for propaganda of non-traditional sex relations to minors, including in the media, on the internet and via viral adverts.

Under the amended law holding LGBT rallies is now prohibited as well as distribution of information aimed at forming non-traditional sexual concepts in children, describing such ties as attractive, promoting the distorted understanding of social equality of traditional and non-traditional relations and also unwanted solicitation of information that could provoke interest in such relations.  

Thus, for giving children propaganda about homosexuality - lesbian, gay, bisexual and transgender community - individuals could be fined up to 5,000 rubles ($US 152) for such 'propaganda' and foreigners could be fined the same amount, held in jail for 15 days and deported.

Officials will have to pay up to 50,000 rubles (about US$ 1,500) and companies – up to 500,000 rubles (about $US 15,000).

Using the media or the internet for the promotion of non-traditional sex relations carries even harsher punishment. Individuals will have to shell out up to 100,000 rubles (about US$ 3,000), while organizations – a million rubles or face a 90-day suspension of activities.

The bill was slammed as "anti-gay" by gay rights activists both in Russia and abroad. However, the Russian president tried to cut short the criticism coming from Western countries and, speaking at the press-conference in Finland earlier this month, called  on them not to interfere with Russian internal affairs.

 "Some countries ... think that there is no need to protect children from this. We do. We are not going to interfere," he said. "But we are going to provide such protection the way that State Duma lawmakers have decided."

Meanwhile, one of the recent polls conducted by the All-Russian Public Opinion Center (VTSIOM) in early June showed that 88 per cent of Russians supported the amendments to the law. Only 7 per cent said they are against. Some 54 per cent said homosexuality should be banned and face criminal liability.  

Also on Saturday Vladimir Putin signed another controversial bill that criminalizes insulting people's religious feelings.

The law allows fines up to half a million rubles (about $15,600) and up to three years of jail time for people convicted of intentionally offending religious sensibilities at places of worship and a year in jail for offenses committed elsewhere.

Premeditated and public desecration of religious objects or books will also be punished – by fines of up to 200,000 rubles (over $6,200).

The law was initially advanced in September 2012, half a year after three Pussy Riot members were arrested for staging an anti-Putin punk prayer in Moscow's main cathedral. The three convicts – Nadezhda Tolokonnikova, Maria Alyokhina and Ekaterina Samutsevich – were sentenced to two years in a medium-security prison for 'hooliganism motivated by religious hatred and enmity' in August 2012. One of them later had her sentence suspended.

The Pussy Riot case attracted unprecedented attention and divided Russia's society into those who think Pussy Riot's actions deserve to be punished harshly, and those who think there was no criminal intent.

The case also prompted wide public discussion both on the limits of freedom of expression and on the proper punishment for attacking other people's beliefs.

You can share this story on social media: