Gay rights in Russia: Facts and Myths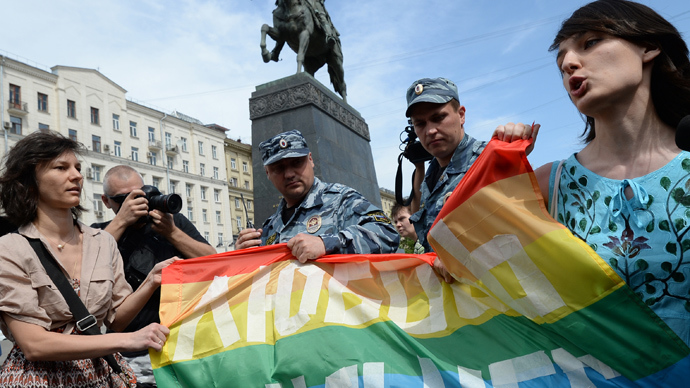 Over the past fortnight, Russia has been accused of rolling gay rights back to the Stalin era, faced a vodka boycott, and then suspended its "gay propaganda law" to appease foreigners at the Sochi Olympics (or did it?). RT sorts out fact from fiction.
Is being gay a crime in Russia?
No. Homosexuality was decriminalized in 1993. In the Soviet Union, "male buggery" had been a punishable offense since 1934, with several hundred people charged with it every year. The maximum term was five years. It was also a convenient tool for smears and was tacked onto spying allegations during the NKVD purges under Joseph Stalin. Lesbianism has never been criminalized.
But why are homosexuals being punished?
A law was passed earlier this summer that levies a fine of up to 50,000 rubles (about $1,500 dollars) on any individuals, and  up to 1 million rubles (about $30,000) on any organizations engaged in "propaganda of non-traditional relationships to minors". Non-traditional sexual relationships were informally defined by the lawmakers as those that cannot lead to the production of offspring. What constitutes propaganda is also unclear.
At the time, the head of Russia's Human Rights Council Mikhail Fedotov criticized the ill-defined and overly-broad terms in the law, and also said that it created a dangerous precedent by "treating people differently based on their personal characteristics, not any criminal behavior."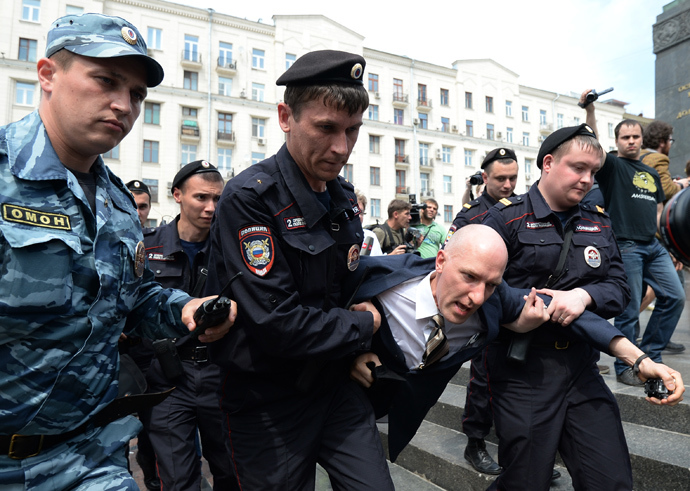 Does the legislation affect foreigners and Russians differently? 
Yes.  As well as paying the stated fines, any foreigners are automatically deported after committing this offense and may be arrested, but not necessarily, for up to 15 days.
Has anyone been arrested as a result of this legislation? 
Several Russian activists had been fined as a result of previous, regional incarnations of this legislation, and dozens have been detained since the federal law came into power, including during protests against the new legislation. In July, a Dutch documentary crew became the first foreigners to be charged with violating the new propaganda law, after Murmansk police found tapes of them asking teenagers about their attitudes to homosexuality. The charges were later dropped.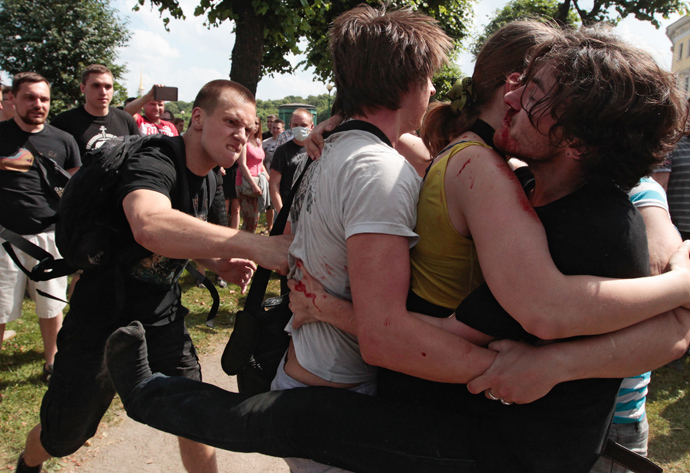 Will the new law be suspended for the Sochi 2014 Winter Olympics? 
The Russian law against "gay propaganda" is not going to apply to the participants and guests of the Sochi 2014 Winter Olympics, according to Igor Ananskikh, the head of the Russian Duma Committee on physical training, sports and youth. The International Olympic Committee said that it "received assurances from the highest level of government in Russia that the legislation will not affect those attending or taking part in the Games" in a statement made to several media outlets.

Meanwhile Russian sports minister Vitaly Mutko said: "No one is forbidding an athlete with non-traditional sexual orientation from coming to Sochi, but if he goes onto the street and starts propagandizing it, then of course he will be held accountable."
What about Gay Pride marches? 
After several one-offs refusals to let them go ahead, and unsanctioned protest rallies, Moscow's local parliament banned gay demonstrations for a 100 years in 2011, and again in 2012. They have been allowed to take place in St. Petersburg under the guise of human rights demonstrations. These have inevitably ended in bloodshed, as LGBT campaigners have been outnumbered by religious and radical right-wing counter-protesters, with police having to separate the groups. Whether Gay Pride marches should be held at all in such a febrile atmosphere has been a hotly-debated topic among Russia's gay community.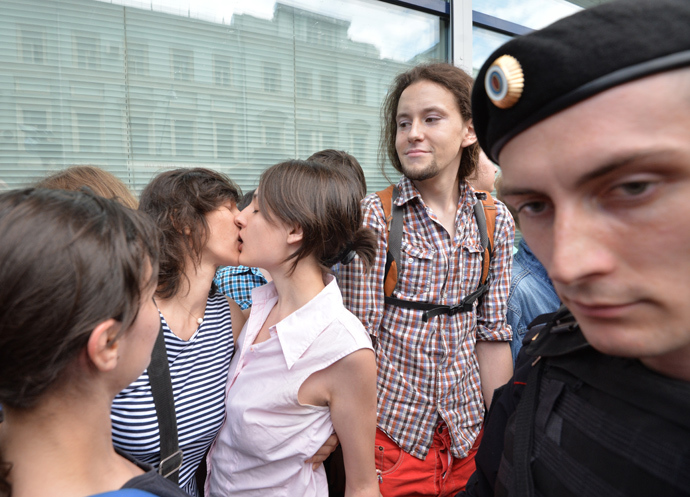 What are Russians' attitudes towards homosexuality? 
According to a May survey conducted by Levada Center, only 21 percent of Russians believe that homosexuality is a sexual orientation people are born with.  Forty five percent believe that it is a result of "being subjected to perversion or loose personal morals", with 20 more believing that it is both a result of circumstances and nature. More than half of Russians believe that homosexuality should be either punished by law (13 percent) or treated medically (38 percent). According to a survey conducted shortly after the gay propaganda law was passed by Levada, 76 percent of Russians support it.
What does the Russian Orthodox Church think? 
The Church is vehemently opposed to homosexuality. Besides standard dismissals of gay behavior as "immoral" and "abnormal", the Russian Patriarch Kirill recently said that recognizing same-sex couples is "a sign of the Apocalypse".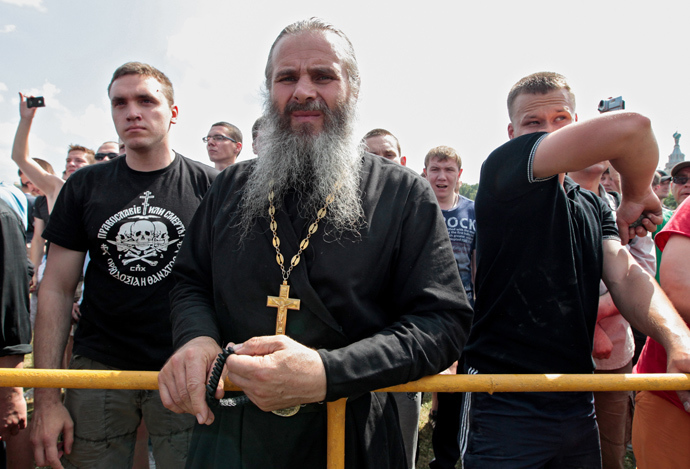 How frequent are attacks on homosexuals?
Arguably the most notorious homophobia-linked case was the brutal murder of Vladislav Tornovsky in Volgograd. The brutal nature of the murder, in which two suspects smashed the 23-year-old's head with a rock, stuffed beer bottles into his anus, mutilated his body and tried to dispose of the corpse by burning it, shocked many people. 
The case gained worldwide coverage after one of the suspects told investigators that the killing was done after the victim came out as gay, and media reported it as a homophobic attack.
However, the victim's close friends maintain that Tornovsky was straight, while the LGBT community in Volgograd didn't recognize him as one of their own. Investigators said they were unlikely to pursue the motive of homophobia in this particular case. Still the case was widely publicized as an example of growing homophobia in Russia.
Homophobic crimes are being committed and investigated as such in Russia. One recent example was the killing of a 39-year-old man in Kamchatka in late May. Investigators suspect that three local villagers committed premeditated murder by beating and stabbing the victiim to death because he was gay.
Official statistics show 12 homophobic attacks in Russia last year, though activists at Moscow's sociological NGO Sova Center says such numbers are almost meaningless, as assaults are rarely reported, and almost never recorded as hate crime incidents.
The adoption of the 'gay propaganda law' itself caused a number of clashes between gay rights defenders opposing the legislation and activists supporting it. On Friday, a resident of Voronezh city was sentenced to two months of corrective labor after being convicted of assaulting Pavel Lebedev, a member of a picket against the law. The judge found the young man guilty of kicking Lebedev in the stomach during the January 20 protest.
Gay activists claim there has been a sharp spike in violence against homosexuals in the past few weeks, claiming the new law gives homophobic gangs carte blanche to attack conspicuously-gay individuals in the name of "upholding the law". However, exact numbers are impossible to collect reliably.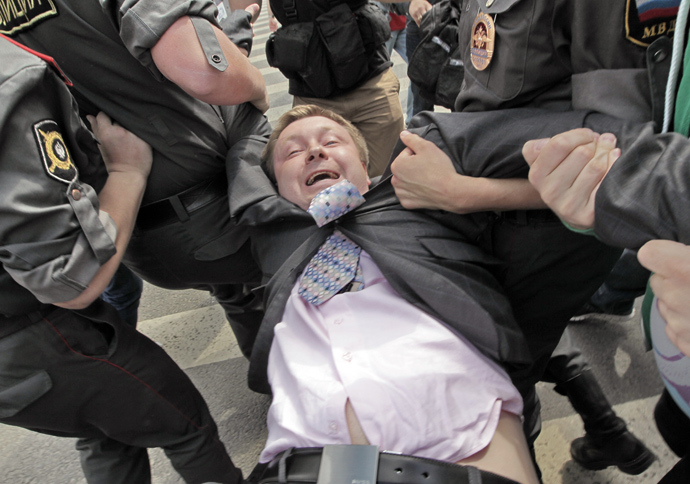 You can share this story on social media: