Apartment of Russian diplomats in Netherlands broken into – reports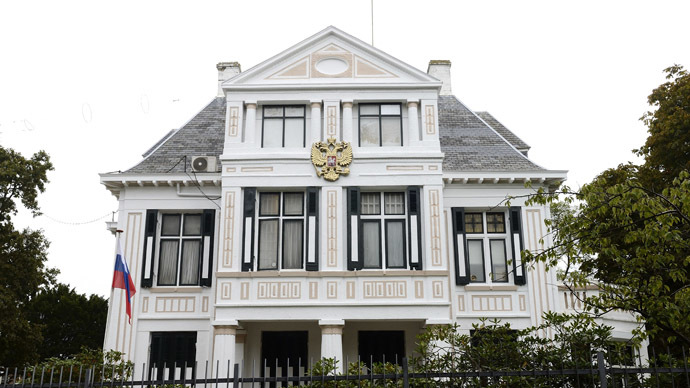 Amid rising diplomatic tensions between Russia and the Netherlands, an apartment housing Russian diplomats in The Hague was reportedly broken into and burglarized Thursday night, local media reported.
The house is managed by the Russian embassy, but does not have diplomatic status, NL Times quoted police as saying.
Witnesses described five police vans on site, along with forensic team collecting evidence.
Police said the intrusion was most likely an ordinary burglary which followed several similar incidents in the same part of the city.
Dutch Foreign Minister Frans Timmermans stated that he regrets that the incident has occurred, local Telegraaf newspaer quoted an official statement as saying.
The Russian Foreign Ministry said it is counting on Dutch authorities "to take comprehensive measures to identify the culprits in this crime."
Earlier on Tuesday evening two unknown assailants disguised as electricians forced their way into to a Dutch diplomat's flat in Moscow, tied the man up and beat him, according to police reports. The intruders drew a heart and wrote 'LGBT' underneath it at the scene of the crime, Russian media outlet Life News reported, showing photographs of the victim's flat.
Russian media reported that the victim of the attack was Deputy Ambassador Onno Elderenbosch, although the identity of the victim was not confirmed by the Dutch mission.
The Russian Ambassador to the Netherlands has been summoned to account for the attack on the Dutch diplomat in Moscow.
The incident comes a week after the arrest of Russian diplomat Dmitry Borodin in The Hague caused outrage in Moscow. According to a testimony by Borodin, Dutch officers broke into his home, assaulted him and took him to a nearby police station where he was kept under arrest for a number of hours.
Dutch police said they were responding to a call from Borodin's neighbors about the mistreatment of the Russian diplomat's children. Borodin stated these allegations were false.
Following the incident, Timmermans issued a formal apology, acknowledging that Borodin's detention amounted to a violation of the Vienna Convention as the police had ignored the minister-counselor's diplomatic immunity.
The Dutch Foreign Ministry said that the detention of the Russian diplomat had nothing to do with recent tensions between the two countries over the continued detention of Greenpeace activists who staged a protest at a Russian oil rig off Russia's Arctic coast.
You can share this story on social media: