Plane investigators rule out several crash causes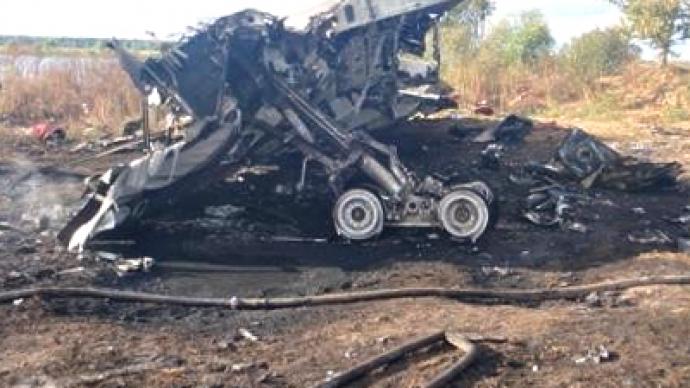 The list of possible reasons which could have led to the deadly plane crash is shortening as the investigation is in full swing. Recent findings have ruled out the possibility that low-quality fuel could have been a cause of the tragedy.
"There is no reason to believe that the quality of jet fuel did not meet the requirements, " the Federal Air Transport Agency's (Rosaviation) reported On Saturday. According to Russia's Investigative Committee, technical problems and pilot error are the main reasons behind the Yakovlev Yak-42 plane crash. Colleagues of the two pilots insist they could not have made the deadly mistake due to their experience. However, as Life News tabloid reporters found out, the fatal flight was one of the first in the aircraft for the second pilot Igor Zhevelov. He had been piloting aircraft for the last 25 years, but the Yak-42 was a new type of plane for him and he had no practice on it.Air traffic controllers and airport's staff responsible for flights have already been questioned. The scenario that engine failure caused the catastrophe was among the first to be rejected. The examination of the black box flight recorders, delivered to Moscow on Friday, showed that engines were intact at the time of the crash. However, experts believe technical failure cannot be excluded completely. Not only engines could have malfunctioned, but also some other devices, like wing flaps. The possibility that the takeoff stabilizer at the aircraft has not been set has also been excluded. According to IAC statement the stabilizer was set to 8.7 degrees, or nose- up position and the flaps were set in the take-off position at 20 degrees before takeoff. The Interstate Aviation Committee has confirmed that report. Another scenario which said that the plane did not have enough runway space to take off has not been confirmed. According to Deputy Minister of Transport Valery Okulov's statement the craft had the required 2,850 meters to take off. He suggested the aircraft failed to gain the required engine takeoff speed. According to Okulov, investigators are trying to collect all the wreckage found at the scene and reconstruct the plane's layout. Some missing pieces can be found only with metal detectors. This operation may take up to 10 days. Meanwhile, the first funerals of the beloved ice hockey team players killed in the tragedy have commenced in Russia.  Russia's Prime Minister Vladimir Putin, as well as other officials, sportsmen and members of the public visited the Arena-2000 ice hockey field to lay flowers during the memorial ceremony.
You can share this story on social media: