Plane engines intact at time of crash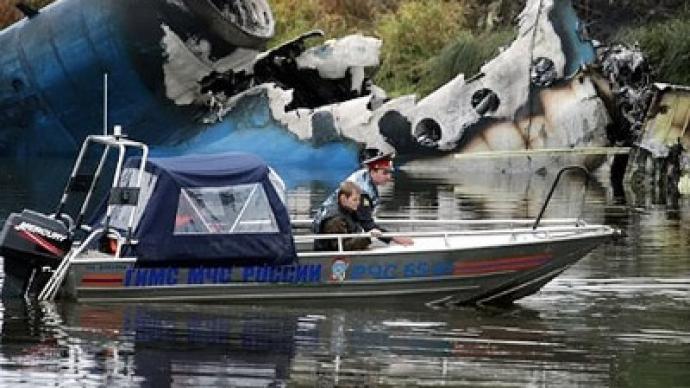 Specialists are working to extract information from the flight recorders of the ill-fated Yak-42 aircraft, which crashed on Wednesday, claiming the lives of 43 people, including Lokomotiv hockey team members.
Preliminary results show that its engines were intact at the time of the catastrophe. The black box flight recorders were delivered to Moscow late on Thursday. Early on Friday, experts from the Interstate Aviation Committee, conducting a technical investigation into the crash, opened them and began the deciphering process. "The appearance of the recorders and information carriers (audiotape) is satisfactory," IAC representative told Interfax. "The audiotapes are wet. After they dried out, we began working on them."Preliminary results of recorded data states that engines of the plane were intact at the time of the crash, the committee's website reads. Technical failure and human factors are still regarded as main explanations as to what caused the plane crash outside Yaroslavl, the Investigative Committee said on Thursday. Personal belongings will be returned to the victims' relatives next week, added the officials. The plane wreckage will be collected in one of the shed of Tunoshna Airport to be later examined by the Interstate Aviation Committee. The IAC's inquiry is expected to take some four days, after which the committee will be able to announce preliminary findings. One of the workers at Tunoshna Airport, where the catastrophe occurred, told RIA Novosti news agency on Friday that the airplane had failed to reach the necessary speed before takeoff. "I saw how the plane was being driven down the runway and noticed that it was just rolling rather than accelerating in order to take off. It has not reached a required speed," the source said.  Deputy Transport Minister Valery Okulov confirmed later that the plane had failed to reach the necessary acceleration.     "Yes, it really failed to reach the required speed and moved with unusual dynamics," he said, as quoted by RIA Novosti.Okulov had said earlier that the main parts of the Yak-42 had already been lifted from the water and placed on a special platform at Tunoshna Airport. Yaroslavl Region Governor Sergey Vakhrukov announced on Friday that investigators are still collecting debris from the scene of the crash. "Yesterday I was at the site of the catastrophe," he said. "They have taken out the tail part of plane – it got into the silt. Yesterday they managed to lift it."
Vakhrukov added that when all the plane's parts have been collected, the regional authorities will erect a memorial at the site of the tragedy. Meanwhile, fans of the Lokomotiv have put up a handmade cross there.Twenty people have been interrogated as witnesses of Wednesday's crash in central Russia. Forty bodies have so far been identified; and 24 DNA tests are to be conducted, says the Investigation Committee.
You can share this story on social media: