'I love you very much' – last call before fatal flight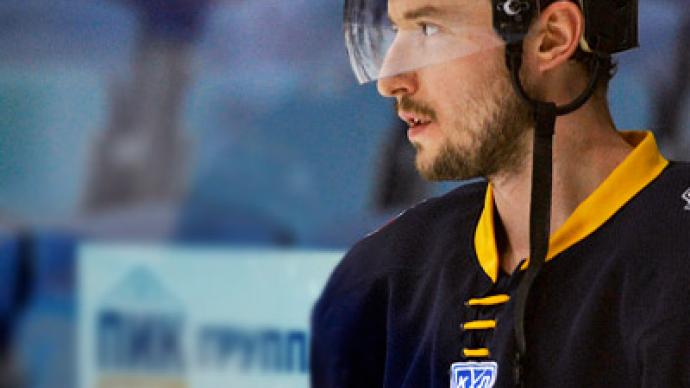 Minutes before the deadly flight, the wife of Pavel Trakhanov, one of the deceased Lokomotiv players, heard tender words from her husband and a goodbye, which turned to be the last farewell.
The 33-year-old hockey player and his wife Ekaterina had a family tradition to connect by phone before Pavel would take off for a game in a different city, Life News tabloid reports.  Wednesday, September 7, was no exception. Pavel Trakhanov called his wife, as usual, to say how much he loved her. "He laughed and joked a lot," she remembers. "[He] asked how our sons are doing and asked to give the telephone to our little Lyoshenka, wanted to listen to his baby babbling."  "His last words were, 'We are taking off. I will give you a call in Minsk. Love you very much.' God, I do not want…I do not want to believe it," Ekaterina sobs. Ekaterina learnt about the tragedy from Pavel's parents, who at first did not want to believe that their son had been on the deadly Yak-42 flight. Along with many others, they learnt about the catastrophe from a TV report. "At first we thought that it was a usual plane that crashed but when we heard about hockey players, we understood everything at once," Pavel's father Sergey told Life News. "First, we hoped that he did not get on the flight, but then Katya told us about his call from the plane and that hope vanished."Sergey, who used to be a hockey coach, blames himself for his son's death. "This is my fault," he says in his grief. "I should not have sent him to hockey in his childhood. How can we get over this?"Pavel Trakhanov first started to play hockey at the age of five. "All Pasha's brothers played hockey, but only in him you could feel the talent," the player's father said. "On ice he was so persistent." "That is why our great coach Vyacheslav Tikhonov noticed him I guess," Sergey added. "Thanks to him, our son's career took off."As part of the youth team in 1996, Pavel Trakhanov became a European Champion. He played for CSKA and in May 2011 concluded a contract with Lokomotiv. "Our son was an experienced player. We were always happy with his victories and now there is emptiness in the soul," the player's mother Galina told the tabloid. "I comfort Katya, tell her that she needs to keep collected for the sake of the children, at least. In the morning we will have to go and identify him." Yak-42 aircraft crashed near the city of Yaroslavl on Wednesday, killing 43 people on board. Only two managed to survive, one of them the Lokomotiv and Team Russia player Aleksandr Galimov, the other flight engineer Aleksandr Sizov.
You can share this story on social media: