Russian telecom authorities temporarily blacklist Facebook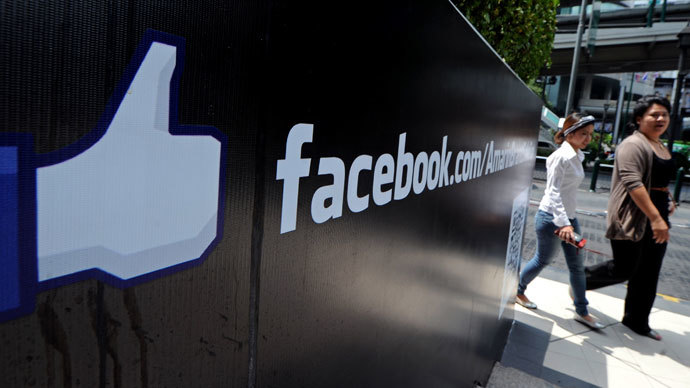 Facebook was added to Russia's internet blacklist after content on one of the social network's pages was deemed to be illegal. The popular site was given three days to delete the content or face a complete nationwide ban.
The Russian Federal Service for Supervision in the Sphere of Telecom, Information Technologies and Mass Communications (Roskomnadzor) added the social networking site to the blacklist on Thursday.
The federal service did not specify which content violated its policies, but said it had received 10 complaints against the site. Details of the individual complaints have not been disclosed.
"Three applications have been examined, including those not related to advertising of smoking blends. Facebook has eliminated the violations under two inquiries, and the third has been included to the register. We have already sent a notification to the hosting providers. Facebook has three days to remove the violation, and avoid a ban in Russia," Roskomnadzor spokesman Vladimir Pikov told ITAR-TASS news agency.
Facebook removed the content later on Thursday. According to media reports, however, the site was never informed that it was facing a ban.
Roskomnadzor acknowledged that Facebook complied with the service's requirements, adding that the social network would be removed from the register of controversial websites.

Russia's Federal Antimonopoly Service (FAS) may now fine Facebook up to 500,000 rubles (around US$ 15,700) for advertising smoking blends, said Andrey Kashevarov, FAS deputy head, reports Itar-Tass.

On Monday, an advertisement promoting the sale of smoking blends on the site sparked a lively discussion among Facebook users, with many suggesting that such ads are illegal.
The advertisement also caused a stir in Russia's Federation Council. The head of the Committee on Information Policy, Ruslan Gatarov, said that he appealed to the Federal Drug Control Service to take action against the promotion of drugs and tobacco online. 
"We need to do everything so a situation like this does not happen again. I believe this is a clear violation of Russian law, with all the relevant consequences," Gatarov said.
Russia's internet blacklist law, which is aimed at protecting children from harmful web content, came into effect in November 2012.
The law enables authorities to force certain web pages offline, even before a trial takes place. This applies to internet sites which contain child pornography, suicide instructions, or promote the use of drugs. In other cases, the decision is to be taken to court.