Russia to clean up in the Arctic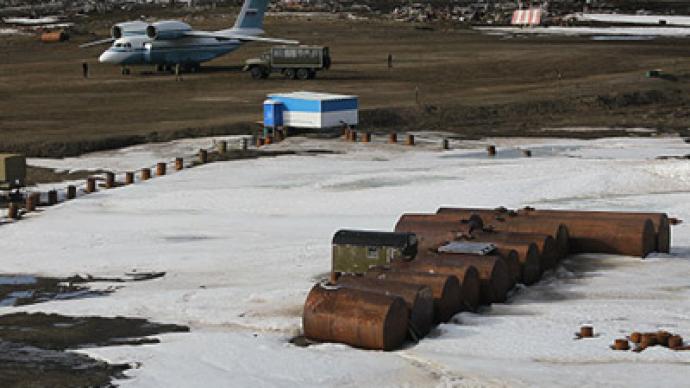 The Russian prime minister says the country is ready for a major cleaning operation on its Arctic territories; getting its hands dirty to clear the way for big money, and placating both ecologists and economists at the same time.
This was Vladimir Putin's main message to a crowd of environmentally-conscious westerners at an Arctic conference in Arkhangelsk. "We have already embarked on a major cleaning operation of the Far North and the Russian Arctic. Among our first priorities is Franz Josef Land, which needs to be cleared of the accumulated fuel barrels… On the way are Wrangel island and the Russian settlements on the Spitsbergen archipelago," said Putin, adding that the federal budget will allot more than $70 million over the next three years to the clean-up projects.It's no secret that the USSR's industrial activity left many ugly scars on the pristine northern landscape. In Soviet times, environmental issues were almost always considered secondary to the country's industrial goals. Not only did Putin own up to Moscow's earlier lack of consideration for environment, he actually promised a change of priorities."Environmental consciousness should become the main guiding principle of human presence in the Far North because, despite its intimidating nature, the Arctic has the most fragile ecosystem on the planet," said Putin. "The cost of treating it off-handedly and disrespectfully is just too high, while the consequences would be too serious."At the same time, the prime minister said that Russia wouldn't ignore the economic benefits that come with the change in the Arctic environment. The melting of sea ice may be a major concern for scientists, but economists view it as an opportunity that, among other things, opens up northern seaways for traffic."The Arctic has the shortest route between the largest markets of Europe and Asia-Pacific. This route is shorter than the traditional southern route by about a third and it creates a great opportunity to optimize transportation costs. That's why countries and private companies that will invest in the Arctic seaways will, without any doubt, reap significant economic benefits." Naturally Russia wants to be among them. According to the prime minister, Moscow intends to upgrade the old ports and build several new ones in the Arctic. Russia will also invest over $1 billion in almost doubling its icebreaker fleet by 2014.
Oksana Boyko, RT
You can share this story on social media: