Anti-WikiLeaks hackers claim responsibility for DDoS attack on RT website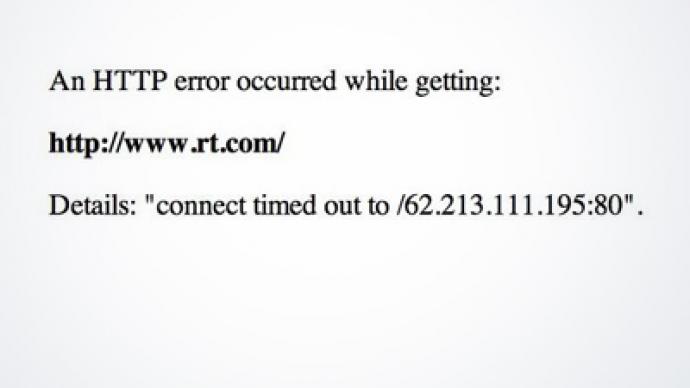 The RT.com website went down for hours worldwide on Friday after a massive DDoS attack, with the hacker group calling itself AntiLeaks claiming responsibility.
"Yes. We are behind the DDoS attack on #RT_com," AntiLeaks wrote on Twitter.

AntiLeaks registered a Twitter account on August 4, when it claimed responsibility for taking down the WikiLeaks site."Tango down http://wikileaks.org #Wikileaks #Cowards" AntiLeaks boasted on Twitter two weeks ago.The group called Julian Assange "a new breed of terrorist" and said it had launched its attack in response to his attempt to gain asylum in Ecuador.The attack coincided with WikiLeaks' release of a new portion of emails supposedly acquired by the hacktivist group Anonymous from the server of consulting firm Stratfor. The latest leaks concern the alleged existence of a clandestine US-based surveillance system called TrapWire, which collects images from surveillance cameras across the US and uses them to track individuals and preemptively identify possible threats to national security.
An attempt to censor RT?
In reaction to the DDoS attack on RT.com, WikiLeaks slammed the attempt "to censor" RT, saying the channel is "an important alternative voice in the West."

An "anti-WikiLeaks group is claiming to be behind the DDoS takedown of Russia's international broadcast network, RT, which has been supportive," the whistle-blowing group said on its Twitter.The hackers that attacked RT.com put a #FreePussyRiot hashtag in the end of their tweet, as if they were expressing their support for the three members of punk band Pussy Riot whose verdict was passed on Friday.But many web users doubt this could be the real reason behind the attack."When the DDOS attack started, all hash tags on AntiLeaks' Twitter were related to Assange and WikiLeaks," wrote user Alex_Gianturco at a related board at reddit.com. "When Pussy Riot started trending, they deleted past tweets and pretended to be DDoSing RT for Pussy Riot instead."Moreover, the DDoS attack actually disrupted RT's extensive reporting on the final day of Pussy Riot trial. RT has been following the band's case on a daily basis since their infamous "punk prayer" at Moscow's Christ the Savior Cathedral in February.Some other comments suggested the site was brought down over the CIA-related scandal as RT was among the sources to report the exposure of TrapWire in the US."Look like AntiLeaks is just trying to divert attention to away from Assange and TrapWire," wrote user SND3 at reddit.com.Over 10,000 computers were used in a similar attack on WikiLeaks, Kristinn Hrafnnsson, the group's spokesperson, told RT.
You can share this story on social media: