RT's main YouTube channel down for several hours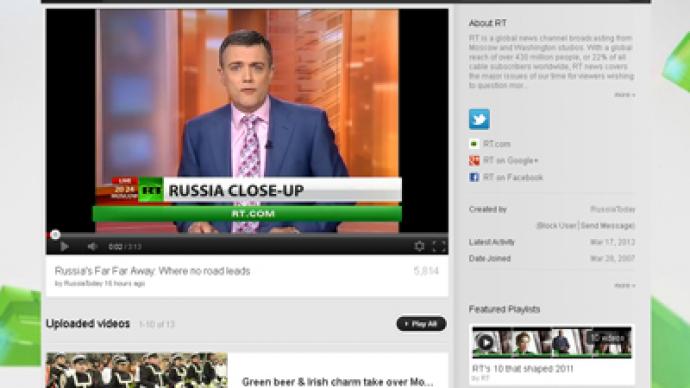 RT's main YouTube channel was suspended for about eight hours, returning online about 2 p.m. Moscow time (10:00 GMT). YouTube ascribed the temporary blackout to a "technical mistake."
During the temporary suspension, anyone who attempted to access RT's main YouTube channel was greeted with a startling message: "This channel has been suspended due to multiple or severe violations of YouTube's policy against spam, scans, and commercially deceptive content."
­
This is what our viewers saw for some 8 hours
During the temporary blackout, all of the content on our main YouTube channel was inaccessible.
RT's YouTube account manager has confirmed it was the YouTube team's mistake, and they have since apologized for the incident.
RT's web promotion chief Mikhail Konrad particularly stressed RT has not violated YouTube's terms of service in any way, shape or form.
"There have been no copyright or community guideline violations on our part which could result in this kind of measures," he said.
RT is the most popular news broadcaster present on YouTube, having racked up about 700 million views and 275 thousand subscribers since the channel's inception.
RT has a long-running relationship with YouTube and Google, and its channels are part of YouTube's Premium Partnership program. This is the first such incident in the history of our close partnership.
In 2007, RT became the first Russian media outlet to open its channel on YouTube. In 2009, RT pioneered the use of YouTube's Content ID program in Russia.
YouTube's director of video partnerships Patrick Walker had previously lauded his company's relationship with RT.
"RT is our trump card, one of the, if not the biggest news provider on YouTube worldwide," he told the MIPCOM 2011 conference.
The blackout sparked frenzy among RT viewers around the world attempting to access the channel and provoked speculation it had been intentionally taken down.
Viewers speculated that everything from censorship to a hacker attack could have been behind the incident. Some of them said this is "ACTA in action", while others focused on the timing, which coincided with an NYPD crackdown on an OWS protest in New York which was being covered by the channel.