Shoes and cheers: Rouhani gets mixed reception after phone call with Obama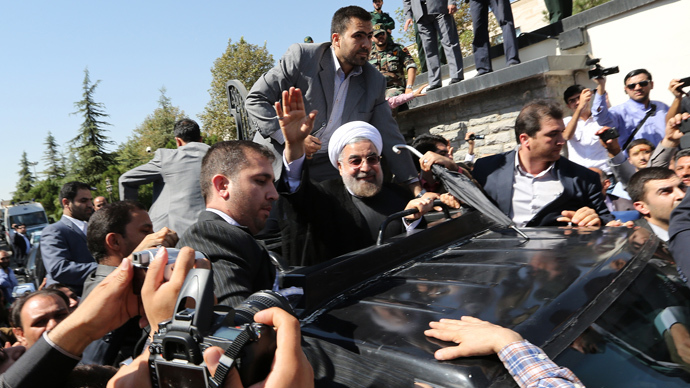 Iranian hard-liners hurled shoes and eggs at President Hassan Rouhani's car after his arrival in Tehran, following his historic phone conversation with Barack Obama – as the country appeared split over Tehran's potential rapprochement with the West.
Both opponents and supporters gathered outside Tehran's Mehrabad Airport on Saturday as Rouhani returned home from his trip to the UN General Assembly in New York.
Up to 100 hard-line Islamists chanted "Death to America" and "Death to Israel" and some of them pelted the presidential motorcade with eggs and shoes – a gesture considered a serious insult in Islamic culture.

Total chaos as hard liners hurls eggs and shoes at Rouhani, one person almost driven over by his car

— Thomas Erdbrink (@ThomasErdbrink) September 28, 2013
"When Mr Rouhani became president, Obama signed an order imposing new sanctions against Iran on cars and other things, with his own handwriting," said one of protesters, as quoted by AP. "This is a clear sign that [Americans] are in no way seeking talks, but unfortunately this [phone conversation] happened."
The small contingent of police present at the airport could not prevent demonstrators "from attacking Iran's president," tweeted Thomas Erdbrink, Tehran bureau chief for the New York Times. He said that Rouhani was trying to keep smiling as his security guards tried to "shield him off with an umbrella, then pulled him into car and drove off."
The hardline protesters were outnumbered by about 200 to 300 Rouhani supporters, who appeared at the site to cheer the president and welcome his diplomatic efforts to ease Tehran's international isolation and get sanctions against republic lifted. They greeted him with placards, thanking him for seeking peace instead of confrontation.
"I think the younger generation is happy that the first contact [between Iran and the US] is being established after 30 years," one of the Rouhani supporters said. "I think it's very positive for us, as we are under such a pressure, sanctions, et cetera."
Police reportedly separated the rival demonstrators. 
During his trip to the United States, Rouhani had a 15-minute phone talk on Friday with President Obama, breaking over three decades of silence between the two nations. Compared to his predecessor Mahmoud Ahmadinejad, the recently-elected Iranian leader also softened his tone on the country's controversial nuclear program.
Upon his arrival in Iran, Rouhani said that he told Obama that Tehran's nuclear program was "not only a right of the Iranian nation and a matter of development, but also – and more importantly – it is a matter of national pride for the Iranian people." He told journalists that Obama said that he acknowledged the nuclear rights of the Islamic republic.
According to Rouhani, he also told Obama that "with the window that the Iranian people have opened, there is not much time left for talks with the P5+1 and resolving the nuclear issue and that this matter should be speeded up." The US president replied that he shared that view and would ask Secretary of State John Kerry to hasten the process.