Ritual suicide evokes fears of disaster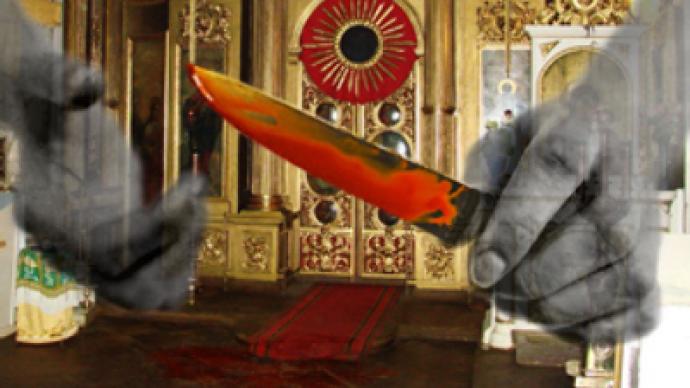 A 35-old man has committed a ritual suicide in one of the Orthodox monasteries in Odessa, Ukraine. Some believers call it an omen of future tragedies, believing such incidents happen prior to major tragedies.
According to officials, near the end of the evening service in Svyato-Uspensky men's monastery, a man came up to a shrine containing one of the city's saints, the Novy Region news agency reports. He reportedly removed his clothes and stabbed himself with a knife. His blood spilled onto the sanctuary, which is viewed as a bad sign for Orthodox believers.
The incident took place on February 22 and the man died in hospital the next day. According to the doctors, the man was mentally ill and an investigation has been launched into the suicide.
Ritual suicide seen as bad omen
Meanwhile, Ruslan Zaporozhsky from the non-governmental organization "Novorossiya" says an act of suicide in the church is a bad omen foretelling future tragedies for the country. The monastery is also the residence of the country's Patriarch.
"There have been examples in history when such violations of a sacred place were signs of large upcoming disasters," Zaporozhsky believes.
"In 1917 in the Optina Pustynya monastery in Russia a man also took off all his clothes, which was seen as an offence to a holy place," noted Zaporozhsky, who believes that incident was an omen of the October Bolshevik revolution.
Smolny Institute
The Smolny Institute in St Petersburg played a major role in the history of Russia. In 1917 the building was chosen by Vladimir Lenin as Bolshevik headquarters during the October Revolution. It was Lenin's residence for several months, until the national government was moved to the Moscow Kremlin.
He also tells of an incident that, according to Zaporozhsky, happened during the construction of a church in St. Petersburg, which is now known as Smolny Palace and designed by the famous architect, Bartolomeo Francesco Rastrelli.
"One of the workers killed himself, jumping off the church while it was under construction and leaving a suicide note. The church was not finished and the building had begun to be used as a boarding school for young ladies".
According to Zaporozhsky, the church hasn't yet commented on the tragic incident, but he claims the next day the Metropolitan of Odessa and Ismail returned to reconsecrate the monastery.
You can share this story on social media: