​For your hands only: Bond-style 'smart gun' controlled solely by owner is now real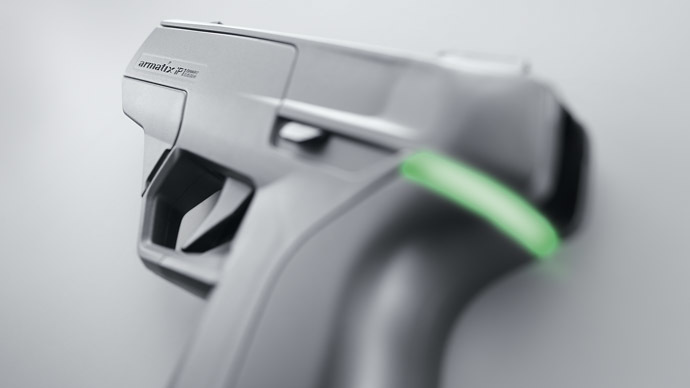 Californians can now buy the first ever handgun that only fires when operated by its owner – as wielded by Judge Dredd and James Bond.
Designed by German manufacturer Armatrix, the iP1 gun comes with a watch to be worn by the owner (the watch is sold at a separate price). Both are implanted with RFID chips – which within ten inches of each interact at a certain frequency, turning the gun 'on'.

"A Smart System gun will only shoot if it is within range of this watch. It is possible to release the safety mechanism via the radio-controlled watch activated by means of a PIN code. As soon as the gun loses radio contact with the watch – e.g. if it is knocked out of the shooter's hand or in case of loss, theft, etc. – it automatically deactivates itself," says a statement on the Armatix website.

The small Bavarian company claims that "mechanical innovation in revolvers, handguns and rifles has been all but exhausted, and this has been the case for decades now. Any progress will and can only be electronic in nature", and says that this milestone brings "gun safety into the 21st century."

As well as preventing accidental shootings and the wrong people from getting their hands on a live weapon, Armatrix assures that the technology won't fail at the most important moment. RFID chips are an established technology that is used in thousands of objects from passports to sheep trackers, and the watch contains enough battery for a year's worth of standby.

The idea of a futuristic gun that would only yield to its owner's wishes has been around for decades – as far back as the Lawmaker operated by comic book hero Judge Dredd in the 1970s that was activated by his DNA, and as recently as James Bond's weapon in latest film Skyfall, which recognizes only his palm print.

Legislatures in Germany and the US have also considered laws to encourage safer weapons – but have come up against the obstacle of existing guns that don't fulfil the technological criteria.

Several companies have explored different identification technologies, chiefly RFID and biometric scanners, but Armatrix managed to beat its rivals to the market.

Yet many remain skeptical that the iP1 is anything more than gimmick at the current stage.

Its main issues appear to be its high price – $1,399, which together with the $399 watch is nearly three times as much as a Glock, – and the continuing dominance of conventional pistols, meaning its impact will be negligible in the short run.

"We are very skeptical of what this technology can accomplish. You're really affecting a very small portion of the gun-buying public," Josh Sugarmann, the chief of Violence Policy Center, an anti-gun group, told the Washington Post.

But Ron Conway, a Silicon Valley investor who has teamed up with relatives of the victims of the Sandy Hook massacre, to introduce a $1 million prize for ground-breaking 'smart gun' technology, is taking a longer view.

"You let the free enterprise system take over. Just like everyone opted into the iPhone and abandoned the flip phone and BlackBerry, consumers will vote with their feet. We want gun owners to feel like they are dinosaurs if they aren't using smart guns," he said.
You can share this story on social media: