Al-Qaeda-linked rebels attack Christian village in Syria
An Al-Qaeda-linked group attacked a predominantly Christian village sympathetic to the Assad regime in western Syria on Wednesday while rebel and government forces clashed in Damascus.
The attack began at dawn when a Jabhat al-Nusra fighter blew himself up at a government checkpoint near the entrance to the  village of Maaloula, according to a Syrian official and the Syrian Observatory for Human Rights, which collects information from anti-regime activists. 
Maaloula – a mountain village of 2,000 residents 60km northeast of Damascus - is home to some of the most ancient Orthodox Christian relics and is a major pilgrimage destination. It's also one of the very few places in the world where people still speak Aramaic, a biblical-era language Jesus is believed to have spoken.

Following the suicide bombing, al-Nusra rebels and government forces traded fire, with the rebels eventually seizing the checkpoint and taking over a hotel on a mountain overlooking the village, according the Observatory and a local nun.

Rebels also disabled two tanks and an armored personnel carrier and killed eight regime soldiers during the fighting.

From the mountaintop hotel, rebels fired shells into the village, forcing around 80 people to take refuge in a convent, the nun said.

A Syrian government official has confirmed the attack, AP reported

Militants have reportedly broken into the village and shelled Christian churches with mortars, Surya al-Ain website reported. A fire broke out in the temple of the Holy Prophet Elijah, the building suffered damage.

Rebel mortar fire hit a sports hall in Damascus, killing Mohammed Ali Neimeh, a member of the national taekwondo team, state news agency SANA reported.

Reinforcements are being transferred to the region from the capital, according to local TV channel Al-Mayadin.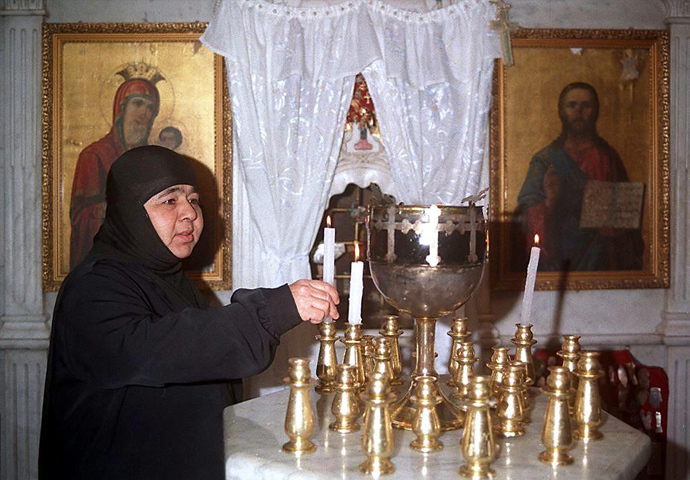 Government forces and rebels also fought in Daraya, located just outside Damascus, according to amateur video obtained by AP.

The ongoing fighting between various rebel forces - often with conflicting aims and loyalties - and Assad's military unfolded Wednesday as the US came closer to authorizing military attacks on Syrian government entities in response to the alleged use of chemical weapons weeks ago.

A US Senate panel confirmed a resolution for force on Wednesday, which will see a vote from the full Senate soon. Meanwhile, the US House questioned key administration officials about the scope and strategy of any assault on Syrian forces.

A team of UN investigators is still analyzing samples taken near Damascus to confirm whether Western allegations that the Syrian government launched the attack are true.

Regardless, US President Barack Obama said Wednesday that he will not hesitate to use force in Syria even if Congress fails to lend its support.

"As commander in chief I always preserve the right and the responsibility to act on behalf of America's national security. I don't believe that I was required to take this to Congress. But I did not take this to Congress because I think it's an empty exercise," Obama said during a news conference in Stockholm on Wednesday, after a meeting with the Swedish prime minister.

In a parliament debate, French Prime Minister Jean-Marc Ayrault called for intervention in Syria, saying that Assad had used chemical weapons and will do so again if not deterred by a Western-led force.

You can share this story on social media: