Senate Foreign Relations Committee approves plan to strike Syria
The United States Senate Foreign Relations Committee voted on Wednesday to approve President Barack Obama's plan to strike Syria in retaliation for the reported use of chemical weapons by leader Bashar al-Assad's regime.
A committee vote on Wednesday afternoon ended with the advancement of a bill compelling the US military responds to Assad's regime, and will next go to the full Senate for debate.
The committee voted 10-to-7 in favor of using military force, with one lawmakers voting only "present."
Should Congress move to approve the president's request, the US could soon initiate a limited strike on Syria that is meant to reprimand Assad for his alleged use of chemical weapons on August 21 outside the city of Damascus. The Obama administration says more than 1,400 people, including hundreds of women and children, were killed in that assault.
Wednesday's vote came only one day after the committee grilled Secretary of State John Kerry, Defense Secretary Chuck Hagel and Joint Chiefs of Staff Chairman Gen. Martin Dempsey about the administration's plans for Syria.
The president and leading members of his cabinet have made repeated pleas in recent days for Congress to approve action against Assad that would be limited in scope and meant to reprimand the Syrian leader and degrade his ability to further use chemical weapons.
Following a swell in criticism, Obama said over the weekend that he would ask Congress to approve a strike instead of pursuing other routes to authorize a strike. According to the president, Assad's alleged use of chemical weapons constituted a dissolution of international norms that warranted a response from the US.
Obama and Kerry have both vocalized the administration's intent to prohibit any America boots from touching Syrian soil. Critics of the plan, however, have opposed any endeavor in which the US intervenes in an external conflict that they say doesn't involve domestic concerns.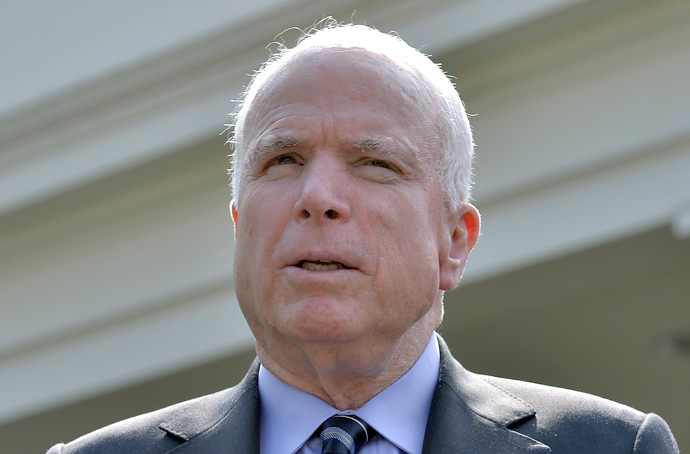 Sen. John McCain (R-Arizona), initially a by-and-large supporter of the president's plan in Syria, announced earlier this week that he had reservations about a resolution which would limit US involvement overseas to fewer than 90 days. On Wednesday, however, he threw his weight behind the committee's updated plan upon conclusion of an amendment he authored calling for any US action in Syria to "reverse" Assad's momentum on the battlefield. On his part, though, Sec. Kerry has insisted that the Obama administration—while indeed interested in removing Assad from office—has not inkling to become involved in the Syrian civil war.
"I don't want to make this debate about what's happening in terms of regime change and the larger issues," Kerry said during a debate in the House of Representatives on Wednesday.
Next, the full Senate is expected to vote on a potential strike on Syria as early as next week.
On Wednesday, Democratic Sens. Barbara Boxer (California), Ben Cardin (Maryland), Jeanne Shaheen (New Hampshire), Chris Coons (Delaware), Dick Durbin (Illinois), Bob Menendez (New Jersey) and Tim Kaine (Virginia) voted for the use of military force, as well as Republicans Bob Corker (Tennessee), Jeff Flake (Arizona) and McCain.
You can share this story on social media: