UK Police chief resigns over News Corp. phone-hacking scandal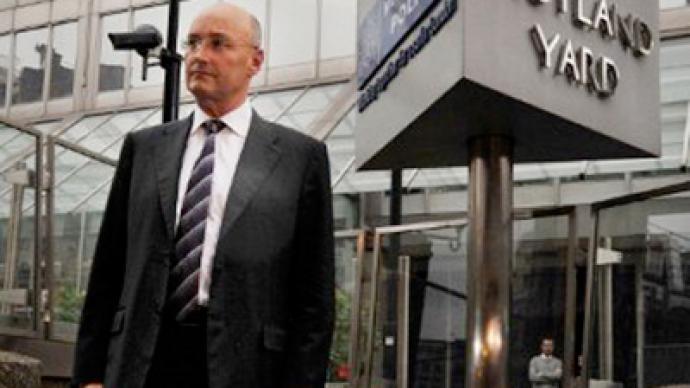 Chief of London's Metropolitan Police Paul Stephenson has resigned amid the snowballing hacking and bribery scandal involving Rupert Murdoch's media empire. This comes following the arrest of Rebekah Brooks, the former head of News International.
Paul Stephenson quit over his links to a former News of the World executive editor, Neil Wallis, who was arrested over the scandal last week. "I have taken the decision as a consequence of the ongoing speculation and accusations relating to the Met's [London's Metropolitan Police] links with News International at a senior level and in particular in relation to Mr. Neil Wallis, who as you know was arrested in connection with Operation Weeting last week," Stephenson told the Associated Press early on Monday.During his press conference Stephenson claimed he had no knowledge of Wallis's links to phone-hacking, and said that hiring him as a part-time PR consultant for a year until September 2010 was not his decision.The London police chief denies any wrongdoing, saying "I will not lose any sleep over my personal integrity," as cited by the Associated Press.Just hours before Stephenson's resignation, the former head of Rupert Murdoch's UK newspaper group, Rebekah Brooks, was arrested in the phone-hacking and bribery scandal, bringing investigations right into Murdoch's inner circle.After questioning she was later released on bail, the Associated Press reported.Rebekah Brooks, Rupert Murdoch and his son James are all due to appear before a parliamentary committee on Tuesday.A 43-year-old woman was arrested over allegations of phone hacking and corruption. Scotland Yard have still not confirmed it was Brooks, but said "she was arrested on suspicion of conspiring to intercept communications and on suspicion of corruption allegations." It is very unusual for anyone so close to the heart of power in the UK to be arrested, says Annie Mashon, a former intelligence officer for MI5.Mashon brings attention to the timing of the arrest as it is unusual for someone to turn themselves in at a police station for formal arrest. The arrest also comes just two days before she was due to appear before a parliamentary committee. "One might think that the police by taking the step at this stage are allowing her a little legal room, as she won't have to say too much and perhaps also won't have to say too much about her links with the police service in London as well."It has been alleged that corrupt police officers have been receiving money to provide protected info, but the scandal  is not only now about phone-hacking as there are other practices that would appear to need investigation, says Mashon.All this information could have been received from vetted police officers or even spies, Mashon notes. She observes that it all shows endemic corruption and a failure of accountability of the police force.The investigation into the police should be carried out by a different force, and the affair has revealed the dark corners of the British establishment and a sort of trickle-down corruption, she continues, adding that she thinks Britain has a systemic lack of accountability – and potentially systemic corruption."We need to set our house in order from the top down," Mashon concludes.
Media analyst and author Phil Rees believes that manipulating the arrests of people is actually a common practice for British police, but he does not think they will succeed in deflecting attention away from themselves this time."There are so many MPs now, and indeed so much of the British establishment, which for so long kowtowed to Murdoch, are now prepared to get to the bottom of this and weed out those people who had been corrupted at different levels.""If this can happen at the top of the police look at the example it gives to officers down the line," he added. "Obviously the way that the press is policed in Britain will definitely change, but I think we must be absolutely sure that that does not restrict journalism in doing its proper job."
You can share this story on social media: