Murdoch outfoxed in UK as trouble brews across the pond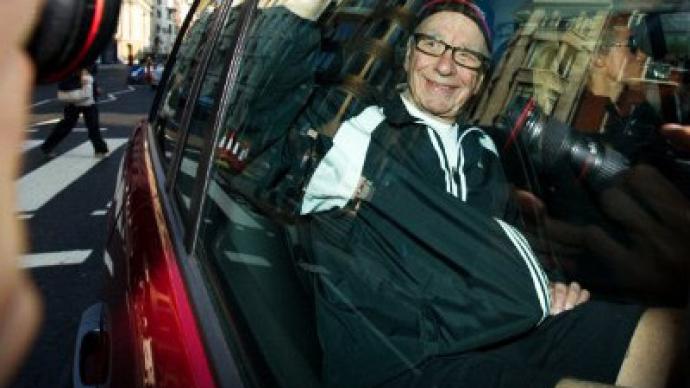 Rupert Murdoch has taken a swipe at his media rivals, labeling accusations against News Corporation as "total lies" and that only "minor mistakes" had been made in the phone-hacking probe.
The embattled media mogul now has an FBI inquiry on his hands over claims that the voicemails of 9/11 victims were intercepted.Meanwhile in Britain, the scandal has claimed its biggest scalp yet, say journalists from News International.The head of the British arm of Rupert Murdoch's News Corporation's media division Rebekah Brooks has quit. Brooks ran Murdoch's UK newspapers and was editor of the News of the World when murder victim Milly Dowler's phone was hacked.Next week she will join Rupert and James Murdoch in facing a parliamentary grilling."I feel a deep sense of responsibility for the people we have hurt," Rebekah Brooks reportedly said earlier.And News Corporation's grip in Britain is slipping fast, abandoning a major TV takeover, closing its leading newspaper and with Murdoch himself summoned before parliament.But while he fights to save his media titan, the vultures are circling.
When art imitates life
When the long-running cartoon The Simpsons takes a shot at its network's owner Rupert Murdoch, aka Montgomery Burns, in an episode broadcast apparently coincidentally this week, it is exactly the case when art imitates life.  But it is not the only odd piece of timing in the extraordinary phone-hacking case that seems to get more scandalous every day. Investigative journalist Tony Gosling points out that, "The list of something like 4,000 names which the police have had since about 2004-2005 and yet they've had prima facie evidence of criminal activity by these individuals, and by the Murdoch empire, and yet they've not acted on it."The question is – why now? Just as the Murdoch deal to take control of satellite TV giant BSkyB looked sure to go ahead, his arch rival the Guardian newspaper releases catastrophic allegations of amoral journalists and their shady practices. That is when the deal collapses."The Times, for example, which currently loses money, he could have transferred some of the profits from BSkyB to prop it up. And if you're the owner of the Guardian or the Daily Telegraph you wouldn't want that," reasons Graham Stewart, the Times newspaper historian.It is not just rival newspapers who stand to gain from Murdoch's empire crumbling. The BBC could re-take TV territory lost to BSkyB, and the Labour Party, which was wounded by years of relentless attacks by Murdoch papers, can finally take revenge.But where will this all lead?Editor-In-Chief and co-founder of WikiLeaks Julian Assange warns that, "In our fervor to deal with the unethical practices that seem to have occurred in News Corp. we should be careful of producing collateral damage that will destroy the ability of investigative journalists to act in the public good."That would suit the government just fine: the British press is famous for its sharp teeth and no-holds-barred doggedness, particularly where its own government is concerned. PM David Cameron has all but shut down the Press Complaints Commission and already talks of statutory controls to govern print journalists.Back in Springfield, Mr. Burns is thwarted, as the townspeople open up their own newspaper.  And he is almost right, when he says "Well, I guess it is impossible to control all the media – unless of course you're Rupert Murdoch. He is a one beautiful man."Murdoch has found out – as did Mr. Burns – that you just cannot buy all the newspapers. Those outside his control has been gone in for him for years and this time they may have succeeded – just as he looked set to consolidate control over large sector of the UK's media market. The rug has been pulled from under him. And it is all over the hidden scandal now revealed that the police have known about it for years.
Brian Drolet, who runs a TV network for social activists, says there are parallels with some nations' wider imperial ambitions and how the culture of control by the Murdoch media got out of hand."You can make an analogy, I think, on an international scale between what happens in takeovers. The US and the UK took over Iraq – and who did they bring to power? Whom did they employ? They employed thugs. And I think that is something that happened in tabloids, where we have immense power in the hands of Murdoch and few other big shots – and who do they hire? What type of folks do they hire?" questions Drolet."It is a whole culture of power and control and deception on agenda and that is agenda of the dominant powers both in Britain and the US," he says.
Rupert Murdoch calling the British MP's comments "total lies" is a just survival strategy, Carmen Russel-Sluchansky, a host and analyst at the Voice of Russia radio station, told RT. "She [Rebekah Brooks] was obviously rather a favorite of Rupert Murdoch's. The fact that he let her go particularly is pretty significant. But certainly she is part of the sacrificial lambs in all this. But the fact that she was such a favorite is very indicative that they are reeling back, they are taking it very seriously," he said. "They are going to send her out to make the public and the British government happier or at least not as contentious."
You can share this story on social media: