Over 100 killed after 7.1 quake hits southern Philippines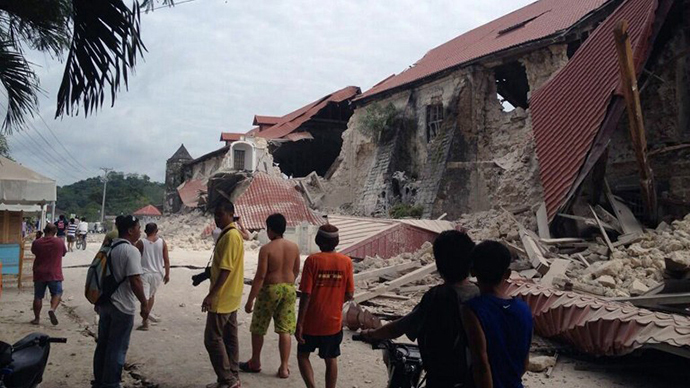 A strong 7.1-magnitude earthquake rocked southern Philippines early on Tuesday causing 110 deaths as roofs and buildings collapsed. The Pacific Tsunami Warning Center says there is no threat of a Pacific-wide tsunami.
100 of the deaths came from the Bohol province, AP quoted regional military commander Lt. Gen. Roy Deveraturda as saying, adding that at least nine others died in nearby Cebu province and another on Siquijor Island. 
Four people were killed in a building collapse on Bohol island, Reuters quoted disaster officials telling Philippines radio. Some people are still  trapped.
Two more people died and 19 others were injured as the roof of a market in the city of Mandaue, Cebu province collapsed, AP quoted TV reports as saying. 
The epicenter of the tremor was located at a depth of 20 km around Bohol island, to the north of Mindanao island, the US Geological Survey reports. People were evacuated from the buildings as seven aftershocks ranging between 5.4 and 4.6 in magnitude followed. 
Witnesses reported trees shaking and damage to buildings. 

@MovePH@rapplerdotcom Sto. Nino Church, in Cebu city after the quake. :( pic.twitter.com/0oBZBNmeBO

— kayzie zepeda (@kRayzie_me) October 15, 2013
The governor of Bohol Edgardo Chatto confirmed that several buildings, including a church and the former city hall in the provincial capital of Tagbilaran, were damaged in the quake, injuring one person.
Historic churches, dating back to the Spanish colonial period were damaged in the earthquake, including a collapsed 17th-century stone church in Loboc town in the Bohol province.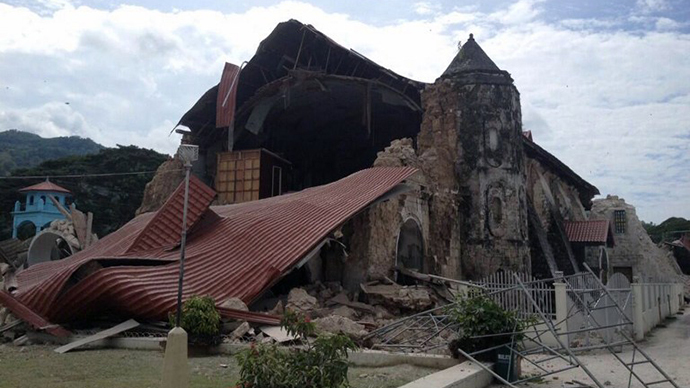 The Pacific Tsunami Warning Center also noted that quakes of such magnitude can lead to local tsunamis, which are usually destructive along the coasts within a hundred kilometers of the earthquake's epicenter.
@MovePH@rapplerdotcom cebu doctor's university building. #earthquakePHpic.twitter.com/zSAfTknX4z

— kayzie zepeda (@kRayzie_me) October 15, 2013
Radio reports from the Philippines' second most populous city of Cebu, located within 70 kilometers of the epicenter of the earthquake, said that at least two low-rise buildings collapsed and other buildings, including a church were damaged. The Cebu Island is known for its large tourism industry. 
Earthquakes are common in Philippines. In September 2012 tens of thousands of people were ordered from their homes following a tsunami warning after an undersea quake in central Philippines. One person died in the quake, which caused relatively minor damage.