7.6 magnitude earthquake strikes off Philippine coast, tsunami warning canceled
Published time: 31 Aug, 2012 13:33
Edited time: 31 Aug, 2012 19:58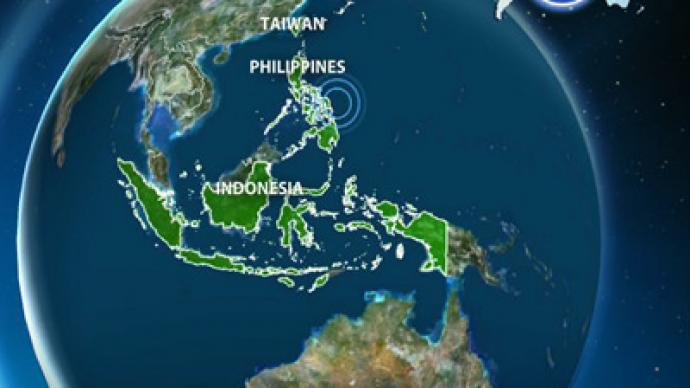 A tsunami warning has been canceled following a 7.6 magnitude earthquake which struck 58 miles east of the Philippines. The quake had initially been reported as a magnitude 7.9, but was later downgraded.
The tsunami warning had remained in effect for Indonesia and the Philippines nearly two hours after it has been lifted for Japan, Taiwan and several other Pacific states and islands. The Pacific Tsunami warning Center would later cancel the warning for the Philippines, Indonesia, and Belau.
The tsunami scare followed a magnitude 7.6 quake  that was centered 58 miles east of the town of Sulangan and had a depth of 20 miles, the US Geological survey said. The agency had initially reported the quake as a magnitude 7.9.
The earthquake destroyed roads and bridges in the Philippines as people are fleeing to higher ground, Reuters cites Samar congressman Ben Evardone as saying. A 54-year-old woman was confirmed dead after her house collapsed in southern Cagayan de Oro, the towns mayor Vicente Emano said. Her grandson is in hospital receiving treatment. Seven houses in total were reportedly destroyed in the town.
Flash flooding was also reported in the region, while several towns and cities were without power in the central and southern Philippines, AP cites local radio as saying.
The head of the Philippine seismology agency, Renato Solidum said that residents living along the coastline of eastern Samar Island, which was some 66 miles from the quake's epicenter, had been advised to evacuate to high ground in case of a tsunami.
The Philippines are located on the southern part of the Pacific Ring of fire, a 40,000 km long horseshoe-shaped area where 90 per cent of the world's earthquakes take place.
In February, more than 20 people were killed when a 6.9 magnitude earthquake struck Negros – the third largest island in the country – leaving massive property and infrastructure damage in its wake. And in 2004, at least 230,000 people were killed in over a dozen countries throughout the region following a massive quake and tsunami.