Gitmo getaway: Al-Qaeda pledges to free Guantanamo inmates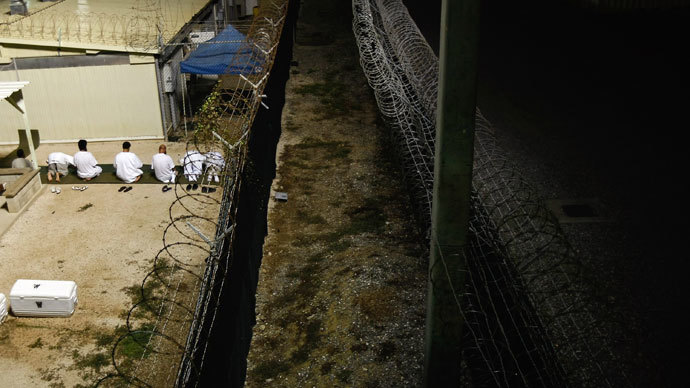 Al Qaeda will "spare no effort" in setting free inmates at the US-run Guantanamo Bay detention camp, the terrorist network's leader pledged. The warning comes after a series of attacks by militant groups on prisons in Libya, Iraq and Pakistan.
Ayman al-Zawahri voiced his threats in an audio address published on an Islamist website. The authenticity of the recording has not been verified, Reuters reports.
"The (hunger) strike by our brothers at Guantanamo unmasks the true ugly face of (the United States of) America," Zawahri said in a reference to the ongoing hunger strike, which continues in the notorious military-controlled prison.
"We pledge to God that we will spare no effort to free all our prisoners, on top of whom are Omar Abdel Rahman, Aafia Siddiqui, Khaled Sheikh Mohammed and every oppressed Muslim everywhere ...," he added, referring to prominent Islamist militants held by the United States.
He did not elaborate on how Al Qaeda would try and do this. In the past Islamists captured Westerners with the goal of trading them for captured comrades.
Guantanamo prison holds some 166 people; most of whom were captured in US military operations in the wake of the September 11, 2001 terrorist attacks. Some of the captives have been held for more than a decade in legal limbo, with no clear prospects of trial or release. Many Gitmo inmates are participating in a months-long hunger strike, with some being force-fed by prison personnel.
Al Qaeda claimed responsibility for last week's attacks on two Iraqi prisons, in which roughly 500 inmates were set free. The raids were two of several high profile militant attacks on prisons over the course of two weeks, with others taking place in Benghazi, Libya and the Pakistani city of Dera Ismail Khan.
Zawahri also denounced the use of armed drones by the US in his address, which he claimed are a sign of America's impending defeat in Afghanistan, Pakistan and Yemen.
"You are leaving a legacy of hatred and demands for vengeance from you over your crimes," he warned.