Netanyahu to Putin: Resolve Iran like you did Syria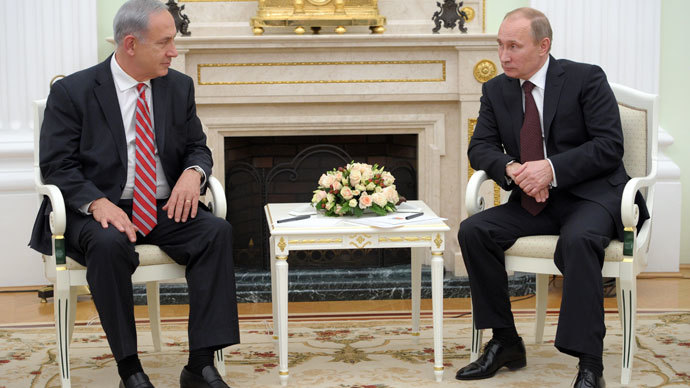 Israeli PM Benjamin Netanyahu has suggested Iran's nuclear issue should be resolved with the same approach as Russia offered for Syria, saying it will be peaceful for Tehran just like it was for the war-torn Arab state.
"This will be a peaceful, diplomatic solution of Iran's nuclear issue just the way it [solution] has been achieved in Syria regarding its chemical weapons," the Israeli Prime Minister said at a press-conference with Russia's President Vladimir Putin.  
For his part, President Putin said he was hopeful of a positive outcome from the talks in Geneva, stressing that both Russia and Israel were optimistic that a "mutually acceptable resolution" could be found.

Netanyahu has compared Iran's nuclear issue to Syria's possession of chemical weapons saying that it was a matter "very similar" to what the "states [P5+1 group] involved in Geneva talks" are now negotiating.  
Netanyahu stressed that Israel is interested in a peaceful and diplomatic solution for Iran, just like with Syria, where the disarmament process going on.  

"I think that we can draw serious conclusions from the resolution that the powers have reached on Syria's non-conventional weapons. In the case of Syria, Russia and other powers quite justifiably insisted on full the disarmament of Syria,"  he said.

Netanyahu said that the International community would not agree to allow Syria to reduce its chemical weapons ability but allowing it to keep its capacity to amass more stockpiles in the future.

The Israeli PM said "the international community must definitely watch closely the implementation of the UN Security Council resolution by Iran, namely, to cease uranium enrichment, to dismantle the centrifuges, to withdraw the enriched material from Iran and dismantle the reactor in Arak". 

Since 2006, the UN Security Council has imposed a series of sanctions targeting entities, people involved in Iran's nuclear program. Besides that, separate US and EU sanctions have targeted Iran's energy and banking sectors

If reached, the deal could see Iran's nuclear program put on hold for six months, in exchange for Western nations lifting sanctions.

Under the deal, the US said it would unfreeze no more than $10 billion of Iran's money. 
Netanyahu  has reiterated that Iran's nuclear activity and "attempts to develop a nuclear weapon" remain the main threat for "Israelis existence" and "peace and security" in the whole world.

The Israeli Prime Minister is in Moscow to try to persuade Russia to impose tougher terms in a nuclear deal with Iran that the Jewish state strongly opposes.

Netanyahu has met President Vladimir Putin behind closed-doors to voice his concerns about the deal being discussed at Iran nuclear talks in Geneva, where senior diplomats from Britain, China, France, Russia, the US and Germany (known together as P5+1 group) are back at the negotiating table.

Israel considers Iran's stockpile of nuclear material a mortal threat and wants its enriched uranium to be removed and capabilities dismantled.

Russia is hopeful the sides will hammer out a deal during talks in Geneva this week. It is also seeking to freeze or curb Iran's nuclear activities in exchange for some relief from international sanctions.

The previous round of talks in Geneva two weeks ago failed to produce an agreement. Some blamed the failure on France, while others, particularly the US, pointed at Tehran, saying that it "couldn't take" it as the P5+1 "presented our proposal to the Iranians".

You can share this story on social media: