Egypt invites Russia to mine uranium, build nuclear power plants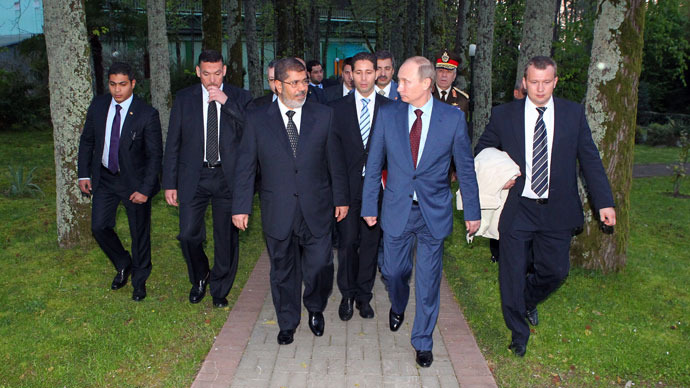 Russia's and Egypt's presidents compared notes on economic and international cooperation on Friday. Mohamed Morsi is on an official visit to Moscow as Egyptian society seethes, with almost 50 people injured in the latest violent clashes.
The Egyptian leader has paid official visit to Russia to hold talks with Vladimir Putin as clashes continue in Egyptian cities.
The latest reports suggest that at least 48 people have been wounded in Cairo over the last 24 hours, as Muslim Brotherhood supporters and opponents clashed. Nine of the hospitalized reportedly suffered gunshots. Police deployed teargas to disperse the rival groups, but with little success.
Egyptian opposition activists demand Mohamed Morsi's resignation, saying they don't want Islamist rule in the country.
While political opponents in Egypt are unable to find common ground, Morsi's economic and political negotiations in Russia appear to bring some concrete results.
"We have agreed to gradually proceed toward diversifying our trade and economic ties. New joint projects in the areas of industrial cooperation, energy or, say, agriculture could increase the mutual investment flows," Vladimir Putin said, informing that the financial agencies of the two countries will get in contact to extend a loan to Egypt at a bilateral meeting in the nearest future.
Russian Energy Minister Aleksandr Novak announced that Egypt proposed sending a delegation to Cairo "to resume cooperation in peaceful nuclear projects" to jointly construct new nuclear power plants. Cairo plans to build 4 GWt of nuclear power facilities by 2025, Novak said.
Cairo has also invited Moscow to step in joint developing of uranium mines in Egypt, he said.
Moscow said it would like to see Egypt taking part in Gas Exporting Countries Forum scheduled to take place in Moscow in July 2013.
"Egypt is a gas extracting country. A Gas Exporting Countries Forum is scheduled to be held in Moscow in July. We will welcome the participation by the president of Egypt or his representatives," Putin said.
International politics positions of the two countries also coincided a lot, as the leaders "thoroughly considered a number of acute international problems," Putin said, and found common ground on the issues of international politics, particularly the hair-trigger situation in the Middle East, and especially emphasized the civil war in Syria.
The presidents agreed that diplomacy is the only solution to the Syrian crisis and that foreign intervention into Syria is unacceptable.

"There should be a political and legal solution of the Syrian crisis without external meddling. We are for an early ceasefire to start intra-Syrian negotiations," Putin said, stressing that Moscow's and Cairo's "positions are close."
Russian presidential aide Yury Ushakov told the media after the talks that "The Egyptian president voiced very new, fresh and interesting ideas," on the Syrian crisis settlement.
Moscow and Egypt also found considerable similarity in the approaches to settle the Arab-Israeli conflict.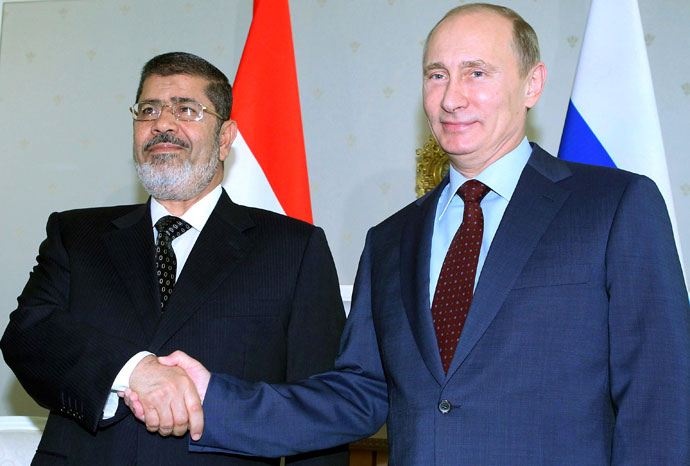 "We believe it is essential for the quartet of international mediators to step up its activity in cooperation with the Arab League States," Putin noted.
At the end of the talks, Morsi invited Putin to pay a return visit to Egypt.
In the meantime clashes between Egyptian opposition and Muslim Brotherhood are running high.
The parties are throwing stones and Molotov cocktails at each other, both sides use homemade handguns.
Opposition accuses police of siding with Morsi supporters from the Muslim Brotherhood as police use teargas to disperse crowds.
"We need calm and we also need president Morsi to step down because we are tired of this," Morsi opponent Emad George told AP.
In the light of the turbulent events in Egypt, Putin particularly asked Morsi to give "increased attention to Russian tourists' safety."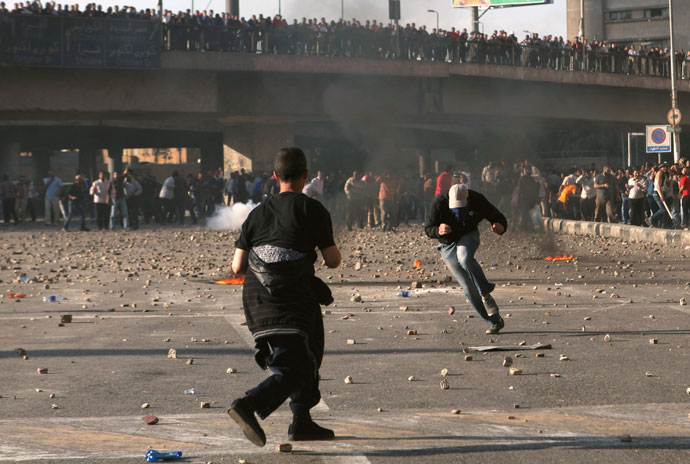 On Friday Islamist Morsi supporters held rallies outside the High Court building in Cairo and in the coastal city of Alexandria, demanding the "cleansing of the judiciary." 
They believe the loyalists from the former regime are blocking Morsi's policies. Their opponents insist that Islamists want to consolidate the Muslim Brotherhood's power by taking over the courts and get rid of secular-minded judges.

You can share this story on social media: