Solo act: Jailed Pussy Riot member granted solitary status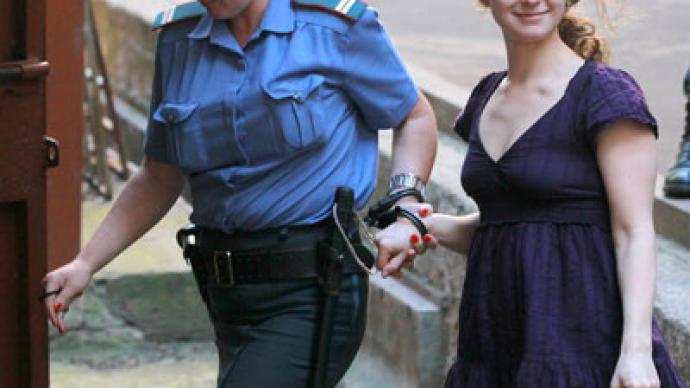 A jailed member of the controversial Russian punk protest group Pussy Riot has asked to be transferred to a solitary cell after quarreling with other inmates, prison authorities said.
Maria Alyokhina, currently serving a sentence for charges of hooliganism, asked to be moved because "she failed to find common ground with other inmates and wanted to guard against unsolicited contacts," a local penitentiary official said.Alyokhina was transferred to the prison's isolated area and is living in conditions standard for an inmate, the official said. She will remain isolated as long as she chooses, or until the wardens are sure that she would not be harmed after returning to a common cell.Alyokhina is serving her term in a prison in Russia's Pskov region. She arrived at the jail on November 5, and did not communicate with other inmates until last Monday.Pussy Riot rose to international prominence after storming into a Moscow Orthodox Christian cathedral and staging a 'punk prayer' at its altar. The incident was filmed, and later turned into an antigovernment music video.Thee band members were arrested and tried on charges of hooliganism based on religious hatred. All were sentenced to two years in jail, although one of the women recently had their term suspended following an appeal.The band's trial was a major media event both domestically and internationally, with the defendants going on a hunger strike, scandalous changes in the defense's legal team, speculation of attempts to profiteer using the band's newfound infamy, and commentary by top Russian officials.Supporters of the band, including some internationalcelebrities, claim they are victims of political persecution. They argue that prison terms are too harsh of a sentence for the young women, and that their only crime was speaking against the government in an ill-tempered manner.Critics contend that they deliberately offended believers to draw public attention to their gig, but underestimated the consequences they would suffer. They often derided the women as publicity-hungry, citing some of their previous controversial actions, like mock executions of immigrants and shooting a group pornography photo session.
You can share this story on social media: