Pussy Riot hires new defense team ahead of human rights court bid
Published time: 20 Nov, 2012 21:44
Edited time: 21 Nov, 2012 01:44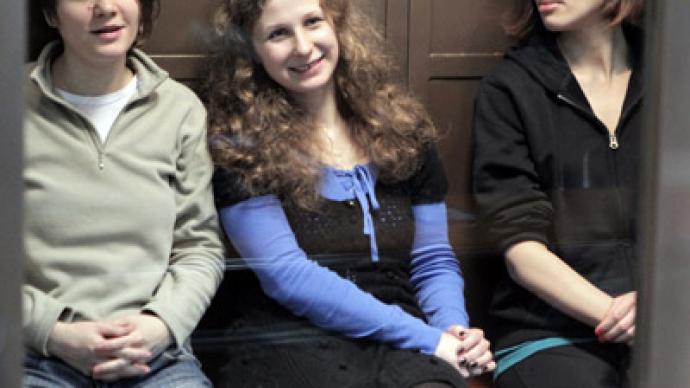 Two convicted members of punk rock protest group Pussy Riot fired their lawyers to hire the defense that helped the band's third member avoid jail. The women said their legal team was too busy with self-promotion to protect their interests in court.
­Nadezhda Tolokonnikova and Maria Alyokhina have hired renowned lawyer Irina Khrunova, who earlier appeared in court to represent Ekaterina Samutsevich.
During the trial, all three members of Pussy Riot were expected to receive the same sentence. However, once Samutsevich opted for a new lawyer, Khrunova brought to the court's attention that Samutsevich was not actually inside Christ the Savior Cathedral while their now-infamous 'punk prayer' was taking place.

The judge sentenced Tolokonnikova and Alyokhina to two years in a labor camp, while Samutsevich only received a suspended sentence.
Khrunova, an associate lawyer with human rights group Agora, has been involved in a number of high-profile cases, including the trial of Mikhail Khodorkovsky in 2005 and 2006.
On Tuesday, it was announced that Khrunova is preparing a complaint to the ECHR to challenge the verdict in the Pussy Riot case.
Earlier, Tolokonnikova's husband, activist Petr Verzilov, announced that Khrunova would join Pussy Riot's legal team to formally establish a complaint to the European Court of Human Rights (ECHR), and that more lawyers would join the team later.

Meanwhile, on November 19, lawyers Mark Feygin, Nikolay Polozov and Violetta Volkova, who previously represented Pussy Riot in court, terminated their contract with the women over what they called "unprecedented pressure" from authorities. They claimed that their resignation was in the best interests of Tolokonnikova and Alyokhina.
Pussy Riot punk group member Maria Alyokhina's lawyer Nikolai Polozov and Nadezhda Tolokonnikova's lawyer Mark Feigin, from left, near Moscow City Court. (RIA Novosti/Vladimir Astapkovich)
Battling former defenders
On November 20 Kommersant daily reported that Samutsevich is planning to lodge a complaint to the Moscow Bar Association to strip lawyers Mark Feygin, Nikolay Polozov and Violetta Volkova of their licenses.
Kommersant reported that Samutsevich sent an official letter to her former lawyers demanding that they return her passport, apartment keys and an official reply on her case from the ECHR. Despite reportedly receiving a response from the ECHR, Samutsevich's lawyers apparently never showed it to her.
Samutsevich gave her passport – her only form of ID – and her keys to the defense team because she was being held in pre-trial detention. Samutsevich claimed that lawyer Violetta Volkova is now in possession of her passport, and is refusing to contact her.

The complaint to the Bar Association is the last resort if the three lawyers fail to return Samusevch's property, her current lawyer Sergey Badamshin said.
Samutsevich gave a lengthy interview on Monday to Russian news website Lenta.ru, during which she accused the three lawyers of incompetence. She said their unprofessional performance led to discontent among the three members of Pussy Riot on trail. The three women vowed to drop their legal team after Feygin's spouse attempted to register Pussy Riot as a trademark for commercial use.
Samutsevich also said that her former lawyers were reluctant to distribute money raised by international activists for Pussy Riot.

Aleksandr Goldfarb, the head of the Civil Liberties' Fund – the group responsible for raising money abroad to support Pussy Riot – wrote on his blog on Tuesday that he gave $6,000 of the money raised Samutsevich's authorized delegate.

The Civil Liberties' Fund was founded by exiled Russian tycoon Boris Berezovsky.
'A brilliant legal process'
Pussy Riot's former lawyers have denied the accusations.
On Tuesday, Feygin wrote on Twitter that he will write a book, along with Volkova and Polozov, about being Pussy Riot's defense team. He said that "sly Samutsevich" will get a "proper place" in it.
Feygin accused Samutsevich of being used as a tool to strip the group's former legal team of their licenses. He also said they had no idea where Samutsevich's passport is, and that Samutsevich's accusations were lies aimed at discrediting Pussy Riot's court case.
In an interview with Russian opposition TV channel Dozhd ('Rain'), Polozov claimed that the three women parted with their lawyers by mutual agreement, and that it had been a pre-planned move.
"I believe we've conducted a brilliant legal process," Polozov said.
"If only they [Tolokonnikova, Alyokhina and Samutsevich] told us 'we don't want to go to prison, go negotiate with the court and the authorities' – we [lawyers] would do exactly that," Polozov said.
In February 2012, Tolokonnikova, 22, Alyokhina, 24, Samutsevich, 29, performed a 'punk prayer' criticizing Russian President Vladimir Putin inside Moscow's main cathedral, Christ the Savior.
The highly publicized Pussy Riot trial at Moscow's Khamovniki Court received international attention, with a number of celebrities including Bjork, Madonna, the Red Hot Chili Peppers, Sting and Terry Gilliam expressing support for the group.
­