Rogozin blasts Madonna over Pussy Riot support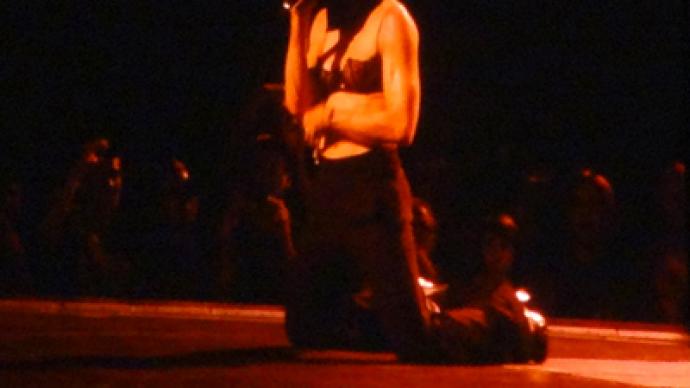 Deputy Prime Minister Rogozin has harshly criticized Madonna's political statements expressed at the recent concert in Moscow, stopping just short of tweeting direct obscenities.
Rogozin's reaction came one day after Madonna's concert in Moscow. During the show the singer donned a balaclava mask and had the name of the band Pussy Riot written on her back in black ink – to demonstrate her support of three girls who are being tried for hooliganism after they used Moscow's main cathedral as a stage for a performance targeting the Russian Orthodox Church and then-presidential candidate Vladimir Putin. "Every former w. with age seeks to lecture everyone on morals" the Russian deputy PM wrote.Rogozin did not accuse Madonna directly in his tweet , but the timing left no room for doubt – all Russian media understood the statement as an attack on Madonna and the shortened epithet was unanimously deciphered aswhore.On the next day the Russian official triumphantly stated, by means of his Facebook account, that his tweet was a cunning manipulation. "It is curious that everyone understood the letter in my tweet in the same way, although it could also mean goddess or ballerina. Everyone connected my statement with Madonna even though I did not drop a word about her. This is public opinion for you," Rogozin wrote.This was not the first time the politician has mentioned the punk rockers in his microblog. Last month Rogozin attacked the artists and society figures who signed a letter in support of Pussy Riot, calling the supporters "sugar daddies" and the girls "poor cows".However, Rogozin's attacks seem mild after the protest launched by the notorious movement "Union of Orthodox Flag-Bearers" who burned Madonna's poster in front of the Christ the Savior Cathedral – the temple where the "Punk Prayer" initially took place. A representative of the movement said that as Madonna posed sitting on a throne for the poster she was desecrating the throne and thus desecrating the institute of kingdom. Besides, the throne on the picture was shaped as a cross and thus Madonna desecrated the church itself.The Orthodox Flag-Bearers also burned a poster with a picture of masked Pussy Riot members.However, the protesters noted that they were not targeting particular people, but the sin in general.
You can share this story on social media: