'Your democracy could be here': Pussy Riot supporter 'crucifies' herself (PHOTOS)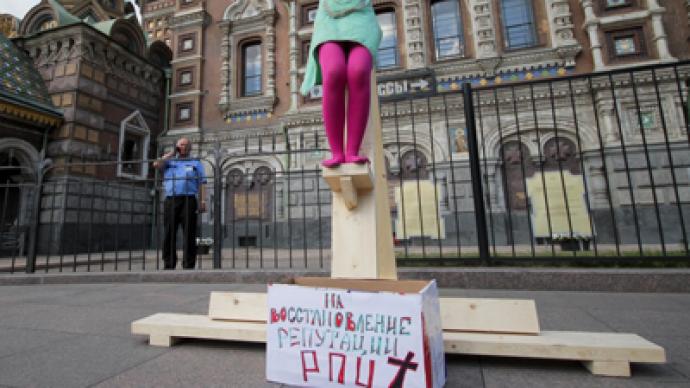 A 22-year old woman spent almost an hour on a cross outside a central St. Petersburg church in protest against the prosecution of Pussy Riot, the punk band being tried over an anti-Putin performance inside Moscow's main cathedral.
The self-crucifier was dressed in Pussy riot garb similar to that in which the group performed their hit "Mother of God send Putin Away" in Moscow's Christ the Savior Cathedral in February. The St. Petersburg protester placed a collection box at the foot of her cross with a note reading: "For restoration of Russian Orthodox Church's reputation". The cross itself bore the warning "Your democracy could be here".Reports noted that although the event was staged at prime tourist time it failed to generate much attention from passersby. The protester hung on the cross for about 40 minutes before being escorted down by police and detained for violation of public order.
image from http://www.baltinfo.ruA local police spokesman said the woman will be charged with violating city improvement laws – an administrative offense punished by a fine.Three members of the feminist-punk band Pussy Riot face up to seven years in prison on charges of "hooliganism motivated by religious hatred". The high-profile case has sparked a heated debate in Russia with many slamming the case as politically motivated.Last week the three band members declared they would hunger strike in protest against the "unlawful" court. One of the detainees, Nadezhda Tolokonnikova, claimed the prosecution has no case against her.Pussy Riot's lawyers announced they had prepared a letter to UN chief Ban Ki-moon asking the UN's Human Rights Committee to review the case. They don't expect a fair trial and say case investigators are finding it more difficult to answer what their clients are jailed for.Vladimir Lukin, Russia's Human Rights Commissioner, also condemned the decision to keep the band members in pre-trial detention for 4 months."There's one problem that must be solved as soon as possible – it should preferably have been solved yesterday: why on earth are they still behind bars?" Lukin asked during a TV show. "Why are they behind bars without a prompt trial?"The Russian ombudsman stressed that the charges against the three women are "administrative.. and reprehensible, but no more than that.""Some are demanding those ladies repent," Lukin said, adding that he expected it to happen "in 15 or 20 years." He claimed that coercion as a way of achieving repentance is totally unacceptable and smacks of "Soviet-era dust".Amnesty International recently called the three women "prisoners of conscience," and is campaigning for their immediate release.Meanwhile, a recent poll shows Russian opinion is divided on the case: 37 percent think that prison was too harsh a sentence for such an offense, while 39 percent believe several years in prison would be a fair punishment for the Pussy Riot.
image from http://www.baltinfo.ru­
image from http://www.baltinfo.ru­
image from http://www.baltinfo.ru