Rights group calls on Church to turn other cheek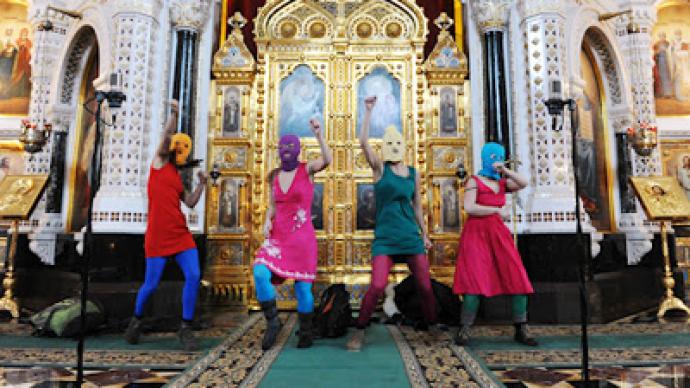 Russian human rights activists have slammed a suggestion from the Orthodox Church to introduce criminal liability for religious insult, following a provocative appearance by a feminist punk band in Moscow's Christ the Savior Cathedral.
"Any Church, including the Russian Orthodox church, should appeal to people's good feelings and mercy, rather than call for tougher punishment," head of the Moscow Helsinki Group, Lyudmila Alekseeva told Interfax. As for Pussy Riot's unsanctioned performance in Russia's main cathedral, Alekseeva said it was "shameful and bad.""Religious feelings shouldn't be insulted," she added.On Tuesday, four members of the all-girl band, wearing mini-dresses and masks, rushed into the church and managed to sing right before the altar for about five minutes before security escorted them out. The group, known for their scandal-courting behavior, entitled the action "a punk prayer: Mother of God, drive (PM Vladimir) Putin away," as they wrote in their Twitter feed. Pussy Riot (who used pretty unholy language in their lyrics) also stated that it's "a big mistake" to consider them "wild atheists", and that many of them go to church every Sunday. A senior representative of the Russian Orthodox Church, Vsevolod Chaplin, stated that the girls violated both the law of God and the country's anti-extremism law. He noted that current punishment for religious insult – an administrative fine of up to 1,000 roubles (about $33) – is "too mild" since such actions "could detonate the situation in the country." The Church representative is confident that such an offence should be subject to criminal responsibility, he wrote in the blog Orthodox Politics. "Now let's ask politicians if they are ready to do so and if they condemn the performed action. I think that those who won't denounce it can stop hoping for the support of Orthodox Christians," Archpriest Chaplin concluded.
You can share this story on social media: