Pussy Riot trial: Day of ovations (Op-Ed)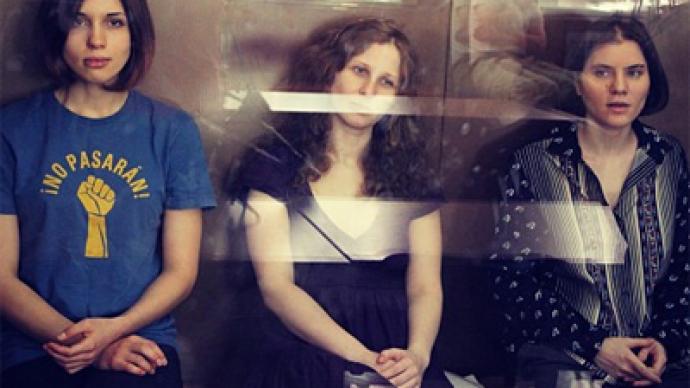 Their names are thundering across the globe. Their supporters view them as patron saints of the Russian opposition. Their opponents see them as Satan's spawn. But with the end close, I can't help but wonder: was the show really worth the hype?
There we were, hot, sweaty, irritated after many hours of pushing and shoving in the courthouse's cramped staircase – but at the same time rather elated to finally be sitting down on the uber-uncomfortable benches in the courtroom.Then Nadezhda Tolokonnikova took the stand for her closing statement.It wasn't really a statement, though. Rather, a manifesto."Christianity, as I understand it," she said, "means a never-ending search for truth.""We are freer than the people we are facing today. We can speak our minds freely and they cannot," she addressed the prosecutors sitting across the room from the defendants.Masterfully, unobtrusively she drew comparisons between the punk group and Pythagoras, Dostoevsky, Socrates. Tolokonnikova quoted Montaigne, Solzhenitsyn and Acts of the Apostles.She held papers, about six pages, front and back filled with scribbles. But she hardly read from them.Starting off in a rather trembling voice, Tolokonnikova's speech grew louder as it progressed."We have lost our ability to cry", she said referring to their five-month confinement and the trial itself. "We apologized, profusely and sincerely, but our outstretched hands were spat upon and laughed at by those who believed we were being insincere, who were judging by their own example."She outdid them all. The prosecutors, the defense, the plaintiffs – they all paled, even taken together, when compared to this seemingly unrehearsed, at times trembling, stumbling declaration of one person's faith.When Tolokonnikova finished, the courtroom – filled mostly with journalists – broke into applause.That had never washed with Judge Syrova, and this occasion was no exception."This is not a theater!" she bellowed from above her podium.But it sort of was because after Maria Alyokhina, whose plea came next, finished her speech, the courtroom, again, was filled with clapping.Alyokhina, though stumbling and stammering at times, seemed to have grasped the main outcome of the trial."The entire world is talking about us," she said. "Musicians, political figures. When the British prime minister met with Putin, he spoke about us!"Samutsevich – the most demure and quiet throughout the trial – read off her speech, the shortest of the three. Again, like in a good play, the epilogue wasn't drawn out. Samutsevich said the government has used the Orthodox Church for its own purposes, adapted it to its needs, made it duplicitous, deceptive – flaws which the Pussy Riot performance in Christ the Savior Cathedral revealed."We expect a guilty verdict, but we have won, because the world will see the system for what it's worth," finished Samutsevich.You probably know what came next. Another round of applause. Almost defiant by this point. For a week journalists were told not to laugh, giggle, take pictures, or talk. When the end was obviously near, none of the dangers seemed plausible anymore. Hence the ovation.Was it worth the show?To me, this trial was an eye-opening process. It was interesting to see the so-called independent and "opposition" media at work. Their close, friendly dalliances with the defense; their change of attitude, depending on the perceived importance of a person they were dealing with (foreign journalists at the top of the food chain, Russian prominent liberal or opposition figures slightly lower, the rest of us writing/filming folk at the very bottom, especially if we're RT – branded 'Putin's propaganda' by some).It was disheartening to witness such brutally poor, unprofessional work by the defense team. At times I caught myself wondering if defense counselor Volkova was paid by someone to do everything in her power to lose the trial.And it was absolutely mind-blowing to see three young women carry the entire drama on their shoulders. They smiled, they laughed, they showed defiance when appropriate, and regret when required. They played their roles amazingly well.The only thing that still puzzles me is this.Why did three highly intelligent, educated women feel it necessary to direct their efforts into showing their protest through sexually explicit acts (like an orgy in a museum or the stuffing of a chicken into one's vagina)? Why did they, not even a year after the city was paralyzed by traffic when tens of thousands flocked into Christ the Savior Cathedral to see the Virgin Mary's belt on display there, choose the very same Cathedral to perform their "Punk Prayer", consisting predominantly of the words "holy shit"? Could it be because the very same performance a week earlier, done in the Red Square, didn't manage to garner as much attention?
Irina Galushko for RT
You can share this story on social media: