Pussy Riot member withdraws release appeal in support for hunger-striking friend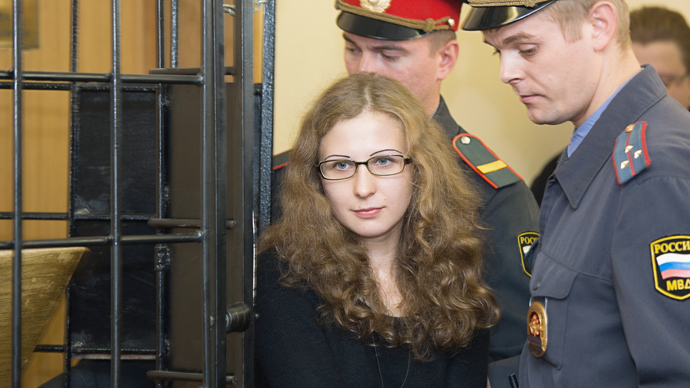 A jailed member of the Pussy Riot punk band, Maria Alyokhina, has withdrawn her sentence mitigation appeal in solidarity her with fellow hunger-striking band-mate Nadezhda Tolokonnikova, who has just returned to jail and does not have such a possibility.
The two women were sentenced in August 2012, when the court found them guilty of aggravated hooliganism for performing their 'Mother of God drive Putin away' stunt in Moscow's Christ the Savior cathedral in February 2012.

A District Court in Nizhny Novgorod, central Russia, was holding a mitigation hearing Friday when Alyokhina, who is serving a two-year prison term, said that she has no ethical right to ask for early release.  

"I do not have any moral right to take part in this court hearing at a time when my friend and fellow convict, Nadezhda Tolokonnikova, does not have such an opportunity because she is currently in hospital, or back in that same prison which we have heard horrible things about," Alyokhina told the judge.

Instead, she has called on Russian authorities to offer a broad amnesty and release all "convicted women who have small children."

"If the Russian authorities are willing to grant me an early release, let them make it under a broad amnesty, along with other convicted women who have small children," Alyokhina, who has a 5-year-old son, said.

As Alyokhina has withdrawn her appeal, this means she will continue serving her term until March, 2014, which was the initial release date.

Meanwhile, the other convict in the Pussy Riot case, Nadezhda Tolokonnikova, also a mother of a minor, has been discharged from hospital and returned to her prison cell in the Russian internal republic of Mordovia.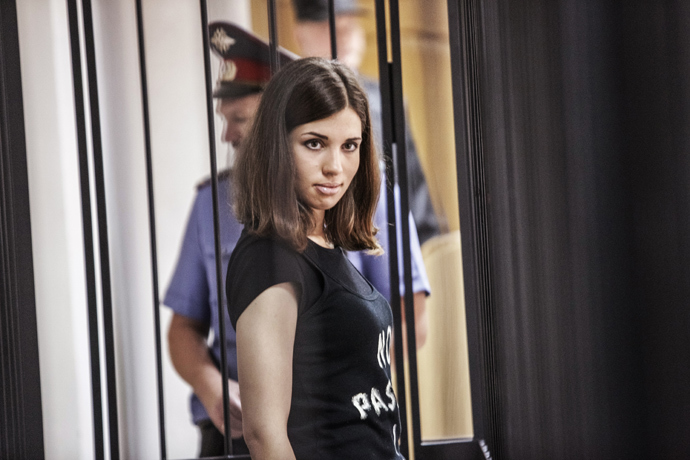 After being discharged in the middle of the night, Tolokonnikova resumed her hunger strike on Friday after officials ordered her to be sent back to the prison in Mordovia, which she earlier had compared to a slave labor camp.

This was inspite of prison officials earlier having promised to transfer her to another jail. However, they also said on Friday that the woman will be relocated to a new facility in compliance with her wishes.

"Currently Nadezhda is in the sick bay of Penal Colony Number 14 and as she promised earlier, she is resuming her hunger strike over her transfer back to the colony," her husband, activist Pyotr Verzilov, said.

Tolokonnikova went on hunger strike on September 23 to protest harsh conditions at her Mordovia prison and alleged violations of prisoners' rights. She also accused a prison official of threatening to kill her.

The woman was hospitalized on the sixth day of her strike.

The prison administration denied the accusations and a probe into her allegations has been launched.

In July, 2013, Nadezhda Tolokonnikova's sentence mitigation appeal was rejected by the supreme court of Mordovia, saying this was due to negative reports on the prisoner from the penal colony's administration.

The so-called Pussy Riot case has sparked a heated social debate and split society in two camps. While it provoked outrage from senior church officials and believers, a lot of people, including scores of musicians and celebrities, supported the band.

The court sentence - two years in prison – provoked mass criticism, with both people in Russia and other countries believing the punishment was too harsh and that the women were victims of political persecution.

While both Nadezhda Tolokonnikova and Maria Alyokhina continue to serve their terms, their fellow band member, Ekaterina Samutsevich, was released on probation in October of last year.